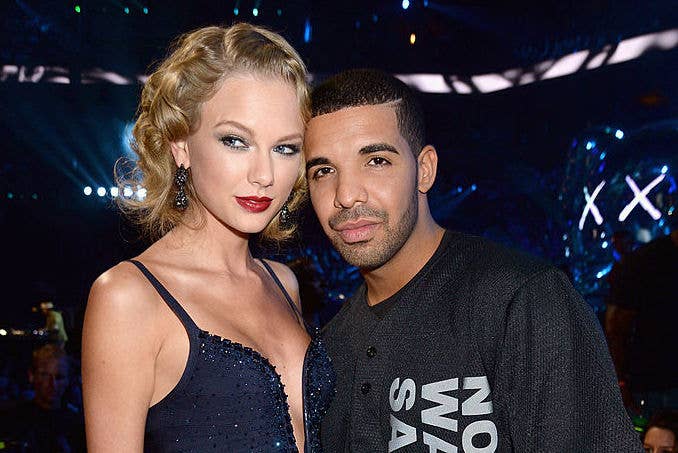 Taylor Swift appeared on Entertainment Weekly's latest cover, divulging details on her new album and how various musicians and actors have continuously inspired her music. 
In the cover photo, Swift wears a denim jacket clad in pins with references to artists, including Selena Gomez and Drake. A photo of the rapper from his "Hotline Bling" music video sits on the jacket alongside a pin that reads "Track 5."
Fans were quick to point out that the placement may be hinting at a Drake collab on the fifth track on her upcoming album. She also praised the rapper in the magazine's spread, saying, "I love his one-liners," and quoting her favorite bars from "Summer Games"—"You say I led you on/But you followed me"—and "Nonstop"—'This a Rollie, not a stopwatch/It don't ever stop.'"
"I love that [the fans] like the cryptic hint-dropping," she said to EW. "Because as long as they like it, I'll keep doing it. It's fun. It feels mischievous and playful."
Many went one step further in their assumptions, as Taylor has been mentioning Game of Thrones recently, and more specifically Arya Stark. Drake too mentioned Arya at the 2019 Billboard Music Awards, which left some guessing whether their potential collaboration will be Game of Thrones-themed. The theory is bolstered by her decision to include GoT imagery in her pin collection, including Arya, Sansa, Daenerys Targaryen, and Dany's dragon-flamethrower battle cry "dracarys."
Drake wasn't the only artist Taylor hinted at in her EW feature. The singer made reference to the Dixie Chicks in her "ME!" music video, which may explain how their pin made the cut on her denim jacket. The similarities between her hit single—in which she says "Je suis calme!"—and the jacket also prompted fans to assume her upcoming project will be entitled "Calm."