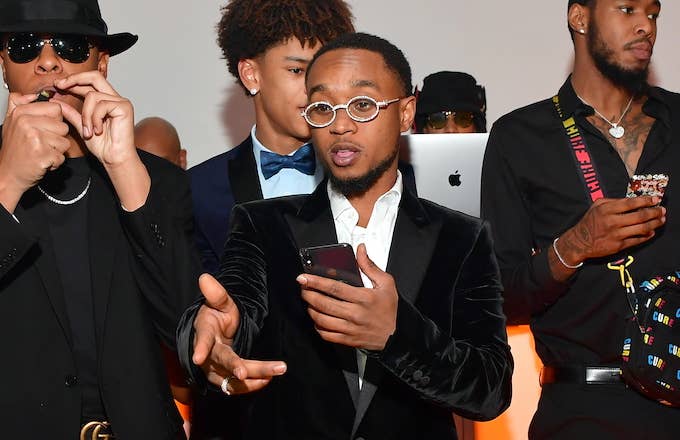 Last Saturday night, Trippie Redd had some harsh words for Slim Jxmmi just hours after the latter appeared to announce the end of Rae Sremmurd.
"He finally realized we only listen to swae parts lmao," Trippie said on a DJ Akademiks Instagram post.
Not content to let that go unanswered, Jxmmi replied by telling Trippie to "stay in a child's place" on Akademiks' IG, prior to telling Trippie that he's "Swae's offspring." That second bit is an obvious reference to Trippie having a similar approach to Swae Lee.
Trippie ended up saying that Jxmmi's music is trash, while also calling him a "b*tch":
Slim Jxmmi then alleged that Trippie can't fight.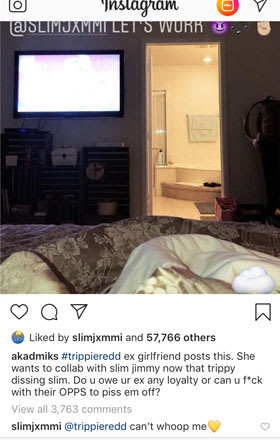 Fast forward to Monday and there's still some lingering drama. Trippie's ex reached out on Instagram to collaborate with Slim Jxmmi after he was publicly disrespected by her former partner.
The post has nearly 4,000 comments and one of them is Slim Jxmmi stating, "Trippie Redd can't whoop me'" while @'ing the man in question.
Jxmmi also continued his Trippie disses during a live session posted by DJ Akademiks. In that brief clip, Jxmmi says he's "trying to get hyped up but this sh*t so f*cking lame. Like, Trippie Redd, like you're just tripping me out."
He then compared him to a "little grape." So Jxmmi and Trippie aren't cool, but at least it's "Sremm 4 Life."