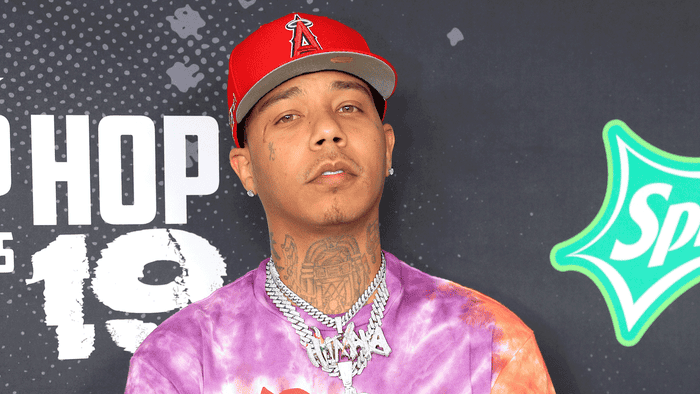 UPDATED March 18, 10:45 a.m. ET: Late Tuesday, Hitmaka took to Instagram, where he shared surveillance footage showing two people passing what Hitmaka says were guns through his security gate.

"I could've been murdered inside my home on Saturday & I would like to take this time & thank all of my family, friends, & colleagues who have reached out regarding the matter sending love and positive energy," he alongside the footage. "This footage is very alarming to all my fellow people in music & living in los angles area pls be safe and monitor who you allow in your home. I made a crucial mistake which could've costed my life THIS WOMAN WAS NOT MY GF EVER. I won't dive further into this & will let my lawyers move forward accordingly."
UPDATED March 17, 5:11 p.m. ET: The Blast reports Hitmaka was actually a victim of a "planned and coordinated" home invasion robbery.
Hitmaka's attorney, Shepard Kopp, shared this statement with The Blast:
On Saturday morning, March 14, 2020, Christian "Hitmaka" Ward was the victim of a planned and coordinated home invasion robbery and assault.

Talia Tilley came to Mr. Ward's house at around 3:40 am. Although she had been to Mr. Ward's house before and was familiar with the layout of the house, she is not now and never has been his girlfriend, and has been falsely reported in some media stories.
You can read the rest of the story here.
See original story from 03/16/2020 below.

Yung Berg, the ex-star of Love & Hip Hop who also goes by Hitmaka, has been accused of pistol-whipping his girlfriend this past weekend. As a result of this alleged assault, she suffered a broken nose and was hospitalized. The case is now being investigated by the Los Angeles Police Department. 
Police reports of the incident were obtained by The Blast. That report states that Christian Ward (Hitmaka's real name) and his girlfriend "became involved in a verbal dispute." During this dispute Ward is accused of pistol-whipping his partner multiple times which resulted in "verifiable injuries."  
This is said to have happened at a private residence in L.A. at roughly 5:00 a.m. this past Saturday. The report was deemed "intimate partner violence." 
The alleged victim was hospitalized later in the day and was given treatment at L.A.'s Cedars Sinai Hospital. There she was diagnosed with a "closed head injury, closed fracture of nasal bone, and facial lacerations." 
An emergency protective order has been issued that prevents Hitmaka from coming within 100 yards of the injured party. He's also not allowed to contact her in any way. That order will expire by Friday, March 20, and if she wants it to extend longer she'll need to file a restraining order in L.A. court.