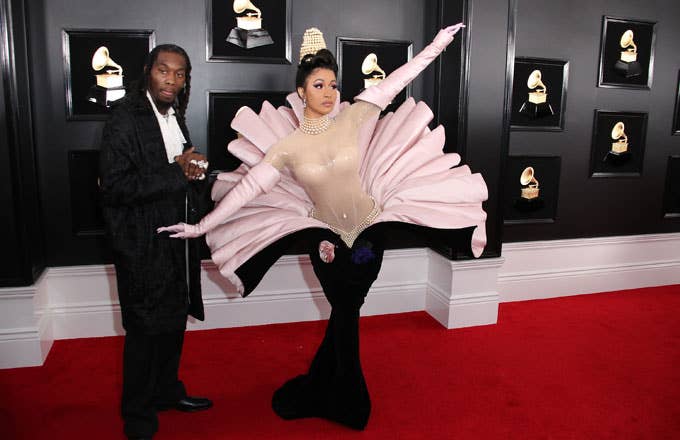 Recently, Cardi B took a visit to the esthetician's office to get some lasering done on her vagina. The basic gist is that there was hair there that was never going to be needed anymore. This is perhaps not the type of thing that Grace Kelly or Marilyn Monroe would've shared with their fan bases. But, hey, times change. 
During this trip, Cardi brought along Offset because after a little time apart, the two have found themselves together once more, as recently demonstrated by some serious Grammys PDA. During this particular visit, Cardi asked her husband if he was coming into the treatment room with her. After divulging this info to her fans, one person caught the Best Rap Album winner's eye after stating that this hair removal wasn't going to get Offset to stop cheating on her. Her response was described by HotNewHipHop as a "hilarious clap-back," but you can decide for yourself, since it was screen-grabbed.
The comment simply stated, "If she thinks that's gonna keep him from cheating, she wrong," which led Cardi to say it wasn't for him, it was for her. Though she said that in her own way. "I just think is not going to make me feel like i have a mink coat down there," she wrote. "Nothin to do with a man Goddam."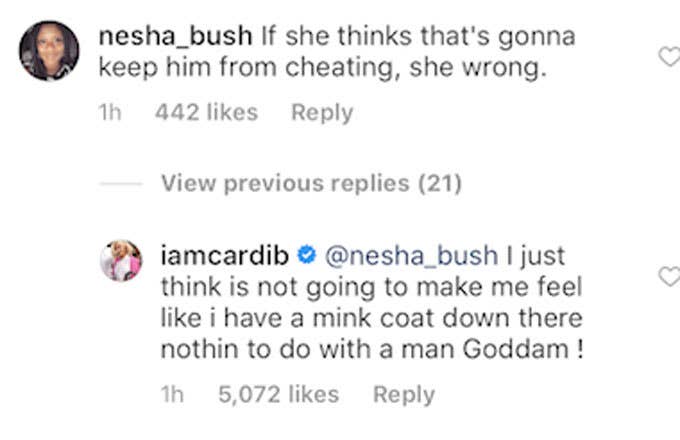 Said comment (and response to said comment) was written in the comment section of Baller Alert's re-posting of the video on their Instagram page:
Walter Cronkite may be gone, but his legacy lives on.