JAY-Z's Monumental Night at Webster Hall: 'I Can't Help It if My B-Sides Are A-Sides'
Jay-Z unexpectedly turned in a contender for his top five performances at Webster Hall's B-Sides 2 show.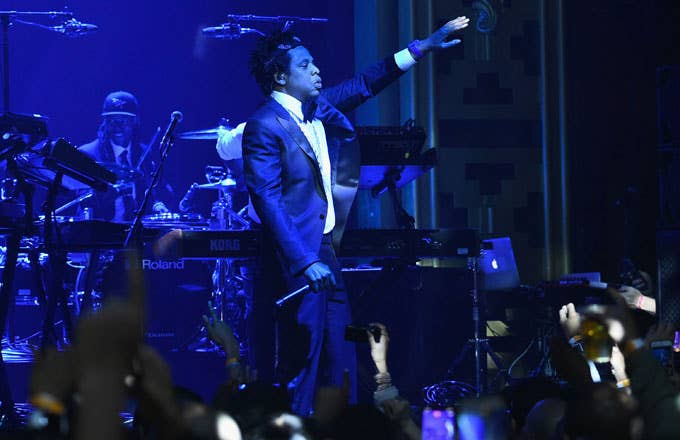 Getty
Image via Getty / Theo Wargo
I've been thinking a lot recently about JAY-Z's proclamation that he's "getting better."
What an insane assertion, right? Rap, perhaps more than any other creative field, promotes a heightened sense of self-affirmation. Every artist thinks they're the G.O.A.T. And to paraphrase the actual G.O.A.T from 2007-era bars: If not, then why bother? But when you reach JAY's stature—a rapper on the eve of 50 who is still relevant, still sought-after, and still actively contending for the throne—the expectations tend to shift.
The community gave JAY a slot on Rushmore after his eighth album. Fan reactions to the five solo albums that have come since have been less focused on validating his legacy than they were about protecting it. When JAY announces new projects, most of us aren't expecting anything that tops that formidable top three: Reasonable Doubt, Blueprint, Black Album. The ideal scenario is a 4:44, an album immediately collectively agreed upon as great, that can fight among the back half of a still impressive top 10. The fear is a Kingdom Come, something that quickly sinks toward the bottom and threatens to fuck up a Rubik's Cube that was already solved.
So it's disorienting to hear that JAY bragged to Joe Budden Podcast co-host Rory at a recent Roc Nation brunch that he's "getting better" as he works, presumably, on a fourteenth album. Then again, the full passage from the afformentioned 2007 verse is: "Go farther, go further, go harder/Is that not why we came? And if not, then why bother?" In 2017, JAY-Z returned from his longest hiatus with an Album of the Year contender, and in 2018 he had two of the best verses of the year. And last Friday at Webster Hall in New York City, he put on an intimate live show that instantly registered to me as one of his top five all-time performances.
B-Sides 2 came with as much uncertainty as it did urgency. The show was announced mere days before tickets were made available. The performance was booked at a smaller venue than the first B-Sides show in 2015, and for one less night, but tickets were the price of a stadium show nonetheless. And despite hope being held out until the final hours, there was no livestream for Tidal viewers at home. The whole affair could've been seen as primarily a bag operation for JAY (the event served as Webster Hall's grand reopening) which plugged in an already tried and true formula: JAY, the stadium-status megastar, scaling down to standing room-only and performing songs that his true fans revere but have almost never heard in his live sets.
Instead of resting on his laurels, JAY-Z outdid himself. For the most part, B-Sides 2 covered a completely revamped setlist from the original show four years ago. (He didn't even repeat the guests, despite how happy we'd always be to see State Property again.) The 2015 show hunkered down in the no-frills scenery of Terminal 5, invoking JAY's old rubber-band-on-the-wrist aesthetic, but this time he swapped the fitted and Timbs to tap into another of his popular visages: the Lucky Lefty Rat Pack-era regal gangster. With his band, guests, and audience-spectating entourage decked out like the Reservoir Dogs, JAY refashioned Webster into his own Copacabana (complete with a spinning Roc sign disco ball) for one of his tightest, most rewarding performances to date: one that took narrative stock of his career, his legacy, and the greater era in which he flourished.
JAY's swaggering bravado was in full force Friday night. The most enduring quote will undoubtedly be, "I can't help it if my B-sides are A-sides," but he flexed in subtle ways as well. He opened the show with "The Prelude" into "Some People Hate," two great songs from his two most panned albums, which is a reminder unto itself: even JAY's mid albums contain flashes of brilliance on gems that still dazzle. The rest of the setlist plumbed overlooked album cuts and loosies, with nary a concession to any "Empire State of Mind" hopefuls in the crowd. "I know real niggas happen to love it" is the line that stayed with me as the show's thesis. "Day Ones" were rewarded with Easter Egg sequencing, like "Momma Loves Me" preceding "Adnis," "Come and Get Me" leading into "People Talkin," or the eight-song ode to classic New York rap suite.
While the two East Village theaters that flank Webster Hall were busy debuting the biggest on-screen superhero match-up of all time with Avengers: Endgame, JAY put on his own New York rap crossover event. Celebrating hatchets long buried in an epic suite of '90s classics with Nas (buoyed by their 2007 and still-best collab, "Success") he still found old scores to resolve as he made peace with Cam'ron during the first ever live performance of "Welcome to New York City."
"Those aren't my enemies," JAY explained of Cam, Nas, and Jim Jones, who took the stage for a rendition of "I Really Mean It," for which JAY played willing hype man. These were once long-standing feuds in both the city and the game at large, but it's easy to imagine JAY moving beyond old rap grudges—he also performed his "Pump It Up" freestyle with Joe Budden in the audience—with a tragedy like Nipsey Hussle's death still fresh on his mind. Nipsey was the subject of the first of two new freestyles debuted during the performance, one which drew ire from literal-minded critics opposed to Hov's call to "gentrify your own hood." The new verse back for 2015's B-Sides show also earned misguided criticism for appearing to draw a line between the deaths of Trayvon Martin, Mike Brown, Freddie Gray, and JAY's bouts with established white infrastructures to launch his own streaming service. In both cases, the intent was clear, even if the phrasing left a little too much room for negative interpretation. Last fall, JAY made a rare case of appearing online to explain bars that were being misconstrued; I sincerely hope he doesn't feel the need to clarify that he doesn't promote gentrification as we know it.
Much like any new JAY project has to stand in the shadows of at least three classics, it's difficult to put a new show up against a career that includes 2003's Madison Square Garden "farewell," Watch the Throne Tour, Hard Knock Life Tour, and countless others. But, as Jigga closed the show in full Sinatra at the Sands mode with a jazzy medley of "Thank You" and "Hovi Baby" (which, in that regard, sounded as much like a superhero theme as anything they used in the old Iron Man cartoon) the evening felt larger than life. This had a bigger scope than just something that will be appreciated and remembered fondly by Stans and NYC tastemaker locals. (The rumors are swirling that this may be the next Carter family Netflix release, which, along with a live album, would be very cool; but do remember he's done this already with Fade to Black.)
Cam'ron was the monumental news headline on Friday night; the only feud left to bury definitively at B-Sides 3 now might be Dame himself. Nas may be old news, but I think back to their first onstage olive branch at 2005's I Declare War concert. I was there for that too, and it was historic, but Friday night's shared medley of "Dead Presidents" and JAY gleefully rapping along to "NY State of Mind" blew that out of the water, no doubt thanks to an ease afforded by years of re-establishing friendship and respect. Though JAY may be removed from his prime, that chemistry would've been impossible in '05. Some things get better with age.