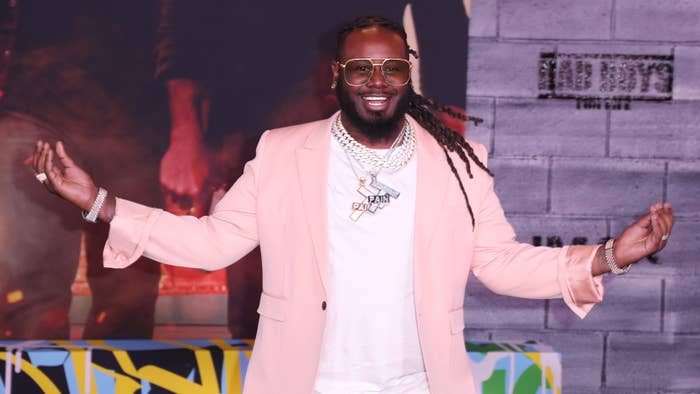 UPDATED 4/29, 5:40 p.m. ET: T-Pain has come to his own defense after sharing with the world that he didn't realize he had a DM requests folder on Instagram.
"I do have a social media manager, which is literally the only reason I even went back to that request folder," T-Pain explained. He said he knew about the folder, but that when he went to check it, all he'd see is fans' messages. "Immediately I was like, 'OK, fuck this. Never going back there again.' … Then I hired my social media manager and then a couple days ago he was like, 'Yo, you ever check your requests folder?'"
T-Pain continued, saying he responded, "'I mean I've been there before, but it's just like all corny fuckin' 'Buy U a Drank' and bartender jokes. I'm not going back in that motherfucker.' And he was like, 'Dude, no it's not.'"
The singer then explained that he didn't know he could filter his messages to only see the top messages. Watch the rest of T-Pain's IG TV video below.
See original story below.
T-Pain might have to start apologizing to some very famous friends. 
On Wednesday, the singer posted a TikTok explaining that he just found out that his Instagram account has a requests folder for direct messages. And unlike the rest of us, T-Pain's requests folder isn't full of random scams and unsolicited mixtape links. Instead, his reads like the star-stacked rolodex of someone who's been in the game for over two decades. 
"I was today years old when I found out about the request folder on instagram that's full of celebs trying to reach me," he wrote in the video. "I've been accidentally straight up ignoring all these people for like 2 years. I thought DM's are supposed to just show up in the normal folder and you don't have to go digging for all these."
Among those in Pain's requests folder are Fergie, Viola Davis, Diplo, YBN Nahmir, Keri Hilson, and more. 
T-Pain then makes it clear to everyone he's accidentally snubbed that it wasn't personal, and that he's willing to issue a mass apology if necessary. 
"I swear!! I'm just now seeing all these messages and mentions TODAY!!!! How do I super apologize?" he captioned the video when he posted it on Instagram. "Press conference? Town hall meeting? I'm dumb."