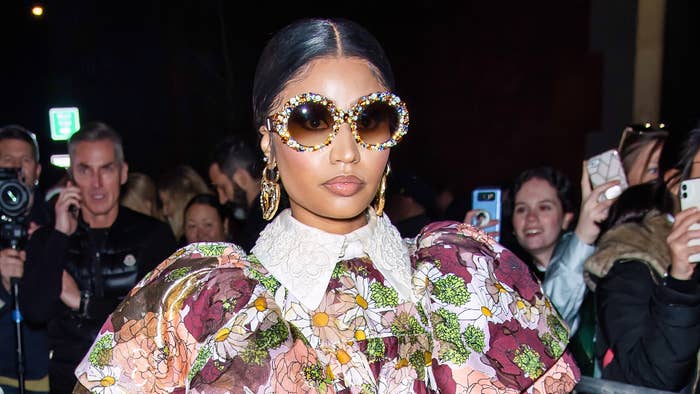 No one can deny the magic that was created by Lil Wayne and Young Money when the label was at its height, an era that birthed two of the biggest rappers to grace this earth in Nicki Minaj and Drake. So when several Young Money artists (including Drizzy) gathered to celebrate Wayne's 39th birthday, Minaj wondered why she didn't get an invite.
After images from the night circulated on social media, Minaj playfully commented "I had so much fun" under a group picture from the night re-posted by The Shade Room. 
Mack Maine then replied to Nicki's comment, explaining that this particular gathering was thrown together at the last minute.
"Lawwwdddd," Mack wrote. "Don't do it like that Nicketo!!! This shit was so last minute. We could run it back deaux it wasn't complete without you."
Lil Wayne's daughter, Reginae Carter, also chimed in.
"They always do that shitttttt," she wrote on Instagram, as pointed out by HotNewHipHop. "They did it to me last time sis it's okay!"
Despite not being invited to the dinner, Nicki still showed love for the man who helped turn her into a superstar. On Monday, she took to her IG Stories where she posted the first picture they ever took together from 2009. 
"Happy Birthday to my everything [Lil Wayne]," she wrote after stating that this picture and moment changed her life."
After her reaction started to circulate, Nicki shared a message on her IG Story. "Can't even joke nomo chile," she wrote. "These blogs so thirsty to post smthn for y'all to hate under. The obsession is a diff kinda real. We weren't even in the same state. Just a lil jokey joke between me & my boo Mack."
She added, "Have a blessed day y'all. I sure will. That's why ya'll pressed. #HappyPapaBearDay." Minaj is celebrating the first birthday of her son on Sept. 30, whom she lovingly calls Papa Bear.