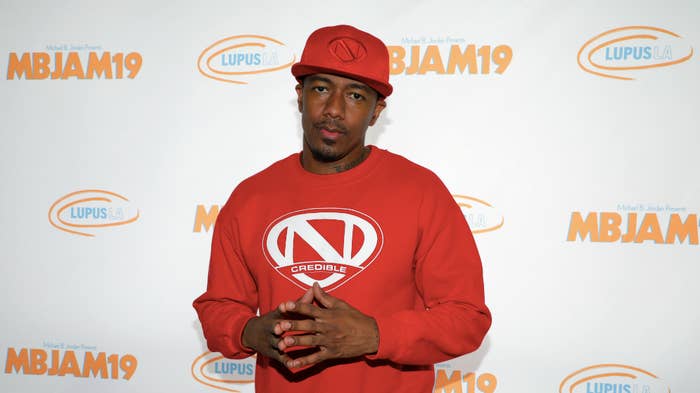 Nick Cannon and Eminem's recent flare-up started because Nick told T.I. he went "looking for" Em at the height of the rapper's beef with his then-wife, Mariah Carey. During a recent interview with VladTV, Cannon detailed his hunt for Eminem. 
"I went to Detroit. He don't live in Detroit," Cannon told Vlad at the clip's 1-minute mark. "He don't live nowhere near Seven or Eight Mile. He lives in Michigan."
Cannon went on to explain that he, Mariah, and Eminem's artist, 50 Cent, shared the same manager in Chris Lighty. Per Cannon, Lighty passed messages between the camps, letting Eminem's side know how serious Cannon took the diss. 
"I was there to defend my wife," Cannon continued. "You said some disrespectful shit about my wife and I'm going to beat your ass." 
This led Cannon to get in contact with boxing trainer Emanuel Steward. Steward was working with Eminem because the rapper was in the running to play the lead role in the film Southpaw. Because Cannon also ventures into the ring, he was hoping Steward and Em would want to set up a charity boxing match so they could put their beef to bed by running a fade. 
"Em was supposed to that boxing movie that Jake Gyllenhaal did," Cannon said. "I was at a fight one time...and Emanuel was like: 'Yo, he ready for you.' I was like: 'Set it up, E.' ... Real talk, I was like: 'I want to match whatever energy he's on.' ... I feel like people can say whatever they want to say in life but you have to be able to deal with the consequences that come with your mouth."
Although Cannon was ready to meet fire with fire, he was also open to having a sit-down conversation with Eminem. Cannon recounted a time when Howard Stern made distasteful comments about his then-wife. Per Nick, he, Carey, and Stern met for dinner and Stern apologized for his remarks. Now, he and Stern have a great professional relationship. 
"I was expecting some of the same things with [Eminem]," Cannon said before saying that Stern "absolutely" apologized to him and Mariah. "Now, Howard Stern is not only one of my closest friends or associates in the industry but a mentor."
Cannon's willingness to confront those that attack his family has a deeper root than mere ego-driven competitiveness. Nick explains to Vlad that there's a certain cycle of underlying racism that's repeated if he doesn't address white males that go against his wife and/or children. 
"There's a mentality—it goes all the way back to when the slave codes were established—that there were practices that the slave master, the oppressor, would rape a black woman and make her husband stand there and watch. And he couldn't do anything about it," Cannon said. "And I'm supposed to stand here in 2008, 2009 and let this white man disrespect my wife? A woman of color...and I'm not supposed to do nothing? ... Would you let that go if that was your wife?"