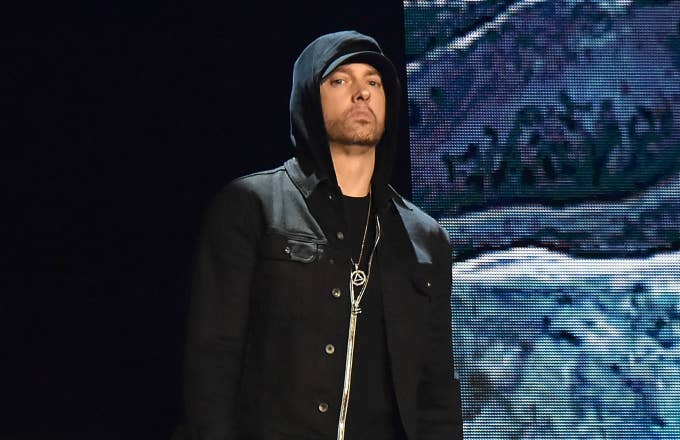 Although a boisterous personality bleeds through his music, Eminem is actually a very reclusive artist. In fact, he's so quiet that he doesn't even tweet unless it's to promote one of his business partnerships or maybe shine light on a feature verse.
So when Em stepped out his comfort zone to tweet a cautionary message, the internet took a rare pause before trying to figure out who ruffled his feathers.
"People think they want this problem 'til they get it," Em tweeted without giving a hint as to who he's referencing.
Em's name has been thrown around a lot as of late. During an episode of Everyday Struggle, Machine Gun Kelly claimed that he's willing to bury the hatchet if Em is willing to respect his skills in front of the world. "Put us on a track and see who comes harder," MGK said when asked if there was any hope for closure between himself and Em. 
While MGK seems to be past the issue, the most heat Em's been receiving has come at the hands of longtime pundit, Lord Jamar. Lord Jamar is a reoccurring guest on VladTV. During almost every appearance, the rapper takes an opportunity to discredit Eminem. This led Eminem to take shots at Lord Jamar on "Fall" which was featured on his Kamikaze album.
This didn't stop Lord Jamar from attacking Em. As a result, Em's close friend and collaborator, Royce Da 5'9", defended Eminem in an Instagram post aimed directly at Lord Jamar. 

"Lord Jamar—you a legendary rapper. You're a part of a legendary rap group. It's like you're going in there sitting on (DJ Vlad's) couch, sitting in this man's chair, and you running up all these views because you have all this controversial shit to say about one f**kin' person and he walks away with the check and you walk away craving attention," Royce said. This prompted Jamar to respond by listing out his pedigree as a rapper. 
"The reason why he would call me a 'legend' and my group 'legendary' is because when Brand Nubian came out, our debut album received five mics in The Source," Jamar responded in an Instagram post of his own. "A lot of people got knowledge of self through fuckin' with our music. That's what makes Brand Nubian so legendary. Why dude would even start out his whole rant about that and say that so thank you and respect for acknowledging what I've done in this game as a legend. Thank you. I appreciate that."
On Thursday morning, Lord Jamar seemingly responded to Eminem's tweet with his own vague message.
This exchange has fans thinking that Eminem is ready to test Lord Jamar's status as a legendary rapper. And as the anniversary of Kamikaze approaches, some people in the audience are anxious to see who will strike first.