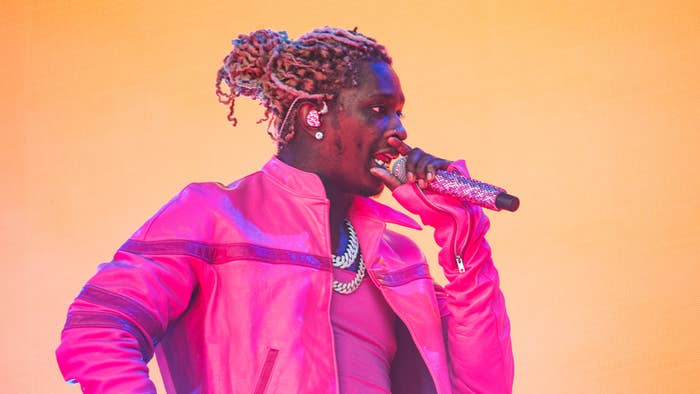 After years of teasing it, Young Thug finally dropped Punk today.
In an interview published this Wednesday as part of Young Thug Week at Complex, Thug explained that after releasing So Much Fun, he wanted to make an album that was a little more serious in tone and included more details about his own life. "Punk is just real life stories," he told us. "The whole album is purified. It's just real."
The concept of the album came together when he made the intro, "Die Slow," a stripped-back song in which Thug tells a stream-of-consciousness story about helping his brother Unfoonk return home from a life sentence in prison, his father getting involved in a shooting, and his mother having a stroke. From there, he was inspired to do more storytelling about his own life. And he's well-aware that might surprise some people.
"It will surprise some people that I am speaking on what the youth is speaking on," he explained. "I have never went with the program. I always stood out. I always had that mindset, like, 'I'm not rapping about what everybody else is rapping about.' No matter what is popping. But this time, it was just like, 'You know what? I'm going to do it.' Just to show n****s I can do it.' This shit is easy. And I've got more stories than anybody in the world. These n****s ain't old enough to have more stories than me."

So, did he pull it off? Was Punk worth the wait? What's the best song? What are the best and worst parts of the album? After giving this thing a few initial spins, members of the Complex Music team (Jessica McKinney, Andre Gee, and Eric Skelton) shared their first impressions. Dive in below.
Eric: "Contagious" stood out to me on first listen. Thug nailed everything he was trying to pull off with Punk on this song. The stripped-back production puts his voice front and center, he's telling personal stories, and there's a noticeable clarity in his rapping. This one isn't going to top streaming charts (that's what "Bubbly" is for) but when I think of the Punk chapter of Thug's career—his singer-songwriter era, if you will—I'm going to think of songs like "Contagious," "Supid/Asking," and "Fifth Day Dead."

Jessica: "Stupid/Asking." I don't know if it's supposed to be a sentimental record that you cry along to or something you play in a more upbeat setting and sing along to as a group. But that's part of the fun of it.

Andre: "Die Slow" for the way it immediately immersed me into the album. Thug was in an introspective place where he's rarely, if ever, delved. We just spent a week celebrating Thug's interstellar, larger-than-life persona, but he's a real human being who, inevitably, has had real hardship in his life. It was interesting to hear him delve right into his troubles and offer a glimpse of how Jeffery Williams is doing.
Eric: "Faces." There's nothing particularly wrong with this song, but after listening to Punk a few times, I find my attention drifting away each time "Faces" comes on, and there aren't any real sticky moments that keep me coming back. If I had to tighten the tracklist up a little for the sake of a more consice tracklist, I'd lose this one.
Jessica: Despite the album being too long, there are no obvious skips, but there is a cringey lyric Thug spits on the second verse of "Die Slow" ("I always knew I wasn't gon' be gay") that could've been left off the track. 
Andre: I didn't hear any obvious skips, in terms of songs I never care to hear again. The thing about an artist like Thug, and an album with so many features, is that even when you feel fatigued during the initial listen, you'd enjoy the individual tracks on their own merit. 
Eric: The growth of singer-songwriter Thug. His career has been defined by his willingness to try completely insane shit like "Harambe" (which I love) but I always wondered what would come out of him on an album full of understated records where he could peel away layers of his life (which is extremely interesting, based on the rare glimpses we've seen). Turns out he's a better singer and songwriter than he gets credit for. He shines as a vocalist on songs like "Stupid," "Hate the Game," and "Love You More." And he's able to get real and share personal stories on songs like "Die Slow." 
Jessica: Young Thug is an abstract rapper, which is the key to his appeal. You might not be able to make out all of his lyrics, but everything always sounds great. The best thing about Punk, however, is that Thug is rapping more coherently than ever. Even more, he's showing a lot of vulnerability in his storytelling as he opens up about his family and other relationships. This album really showcases Thug's ability as a rapper. 
Andre: I love the vulnerability, not just from Thug, but from Cole, and T-Shyne. Throughout the past two years, I've heard fans lament that popular artists aren't speaking to how hard the times are these days. There's definitely a track called "Rich Nigga Shit" on here, but there are other moments when Thug reveals that it's not all good in his world. He may have the finances to mend his problems in an easier way than us, but that doesn't mean they aren't problems. 
Eric: Thug leans into guitar-driven ballads on much of the album, often sacrificing drums. This works most of the time—songs like "Stupid/Asking" are great—but over the course of a 20-track album, the energy occasionally drags because of it. This isn't a big issue for me, but on a laid-back album like this, I'd cut the tracklist down to 15 or 16 songs for the sake of brevity.
Jessica: I'm starting to sound like a broken record each time I write about an album this year, but 20 songs is still too long. The album is good, but I'm still not interested in listening through this much music in one sitting. Thug could have shaved off five of the tracks and released them on the deluxe edition. 
Andre: I would have liked a couple more moments of Thug turning up and contorting his voice over some more upbeat production. I enjoyed the album but there were moments where the production felt like it was nearing a lull and was saved by Thug's vocals. There was a little stretch from 7-12 where tracks like "Rich Nigga Shit" and "Bubbly" invigorated the experience, but everything before and after was pretty subdued. At the same time, though, that was obviously by design. 
Eric: I don't know if this is actually a surprise or not, but it's an extremely Young Thug move to call an album Punk, and then release a project full of mellow acoustic guitar-driven songs. This is the least abrasive album of his career (sonically, anyway) which defies the title. Of course, Young Thug's entire career has been about misdirection, so we probably should have seen this coming. In Atlanta, he explained to me that the name Punk is more about how he's always been rebellious and gone against the grain than a reference to the genre. So if you were expecting Young Thug meets the Ramones, he tricked you.
Jessica: Going into the album, I expected there to be a lot of rock and heavy metal-inspired tracks. Based on Thug's Tiny Desk performance, I also expected a lot of heavy drums. Some of those influences are definitely there, but it's not "punk" in the traditional sense. I was also surprised by how much Thug is rapping on this project and the amount of vulnerability he showed on tracks like "Die Slow" and "Road Rage." 

Andre: No huge surprises.
Eric: Mac Miller. It's always great hearing new music from the late rapper, of course, but his vocals on "Day Before" also fit the tone of Punk very well. Thug isn't just paying tribute to Mac by putting his vocals on here; he knew his verse would be a perfect way to end the whole album, both sonically and thematically.
Jessica: J. Cole was great on "Stressed." He was aggressive and compelling on the record, but still managed to bring the bars. Mac Miller was also a great addition to "Day Before." It was honestly just nice hearing his voice again. 

Andre: Pretty much everyone on here represented, but J. Cole's "Stressed" verse stuck with me the most on the first listen. It's really interesting to hear him get so much slack as "boring" while he's been one of the few guys who came in as a raw spitter who is also willing to try things melodically and vocally. I really enjoy his collaborations with Thug.
Eric: I wasn't expecting to get a Young Thug album in 2021 that sounds like it was recorded around a campfire with a bunch of guitars, but I'm glad it happened. I'm joking, but I do really like this album. I always thought Beautiful Thugger Girls was an underrated project, and it's great to hear him tap back into that understated, acoustic-guitar driven sound again, where his melodies can shine. We've heard a lot of bombastic Young Thug songs over the years, and it's nice to hear him strip things back a little and show his strengths as a songwriter and vocalist in a more restrained manner than we've heard before. That doesn't mean I don't want to hear out-of-control shit in the vein of "Harambe" or "Drippin'" again on the next Young Thug album, but this is a welcomed changed of pace and I'm very happy with the addition of Punk in his discography. His range has grown since those early tapes back in the early-2010s, and this album is an exciting reminder he can always pull off the unexpected (even on songs with pop artists like Nate Reuss or Elton John).
Jessica: I enjoyed Punk. It's a fun album, but also shows a side of Young Thug that I wasn't expecting. The party records are still there, but there are also tracks that go beyond a club setting and really take us into Thug's headspace. I haven't been as invested in the Young Thug universe as others over the years, but Punk has definitely caught my attention. 
Andre: Thug told us that he was doing more storytelling on this one, and he wasn't just talking. This project starts off with Thug digging deep, and he stays pretty vulnerable throughout the project. True to his character, his romantic yearnings become his predominant canvas, but it was still cool to hear him try to round out the project by delving into his family life a bit. 
You could tell he set a tone for some of the features on the project with those choices. The album eventually felt a little long, but that may have been more about sequencing than the actual quality of the music. There were no tracks I felt outright bad about. All in all, it's a strong effort that shows Thug trying some new things thematically and showing off his skills as a rapper, which I can appreciate.