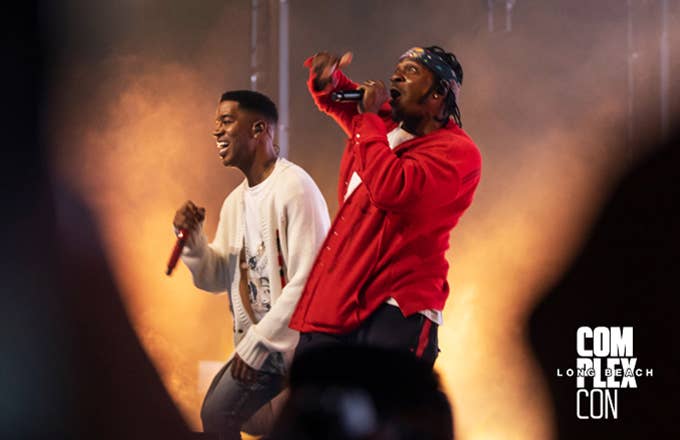 Kid Cudi opened his headlining performance at ComplexCon Long Beach 2019 with a little help from some friends.
"We live in a world where it's more okay to follow than to lead," recited Timothée Chalamet, as he performed Common's intro from Man on the Moon: The End of Day. "In this world being a leader is trouble for the system we are all accustomed to."
Chalamet, who was seated onstage in a hoodie, finished the intro before "Feel The Love" blared over the speakers at the Long Beach Convention Center on Saturday night. Cudi walked onstage, closely followed by another guest: Pusha-T. Caught up in the moment, Chalamet bounced around between the two of them as Push delivered his verse and Cudi sang, "I can still feel the love!"
It was a fitting opening song for Cudi, who always feels the love at ComplexCon. As he returned to Long Beach after performing at the very first ComplexCon back in 2016, Cudi's presence was felt throughout the day. A few hours before his headlining set, he walked the convention center floor with Ben Baller and Takashi Murakami, meeting with fans at his Cudder's Playground booth, which featured an amusement park ride and other themed installations. 
"We're going to have some fun tonight and take a journey," Cudi told the crowd early in his set. "We're going to take them back first, then work our way to Man on the Moon II. Then we're going to do some Indicud shit, and a couple jams in between."
Ten years after its release, Cudi ran through four highlights from his debut studio album, Man on the Moon: The End of Day: "Soundtrack 2 My Life," "Solo Dolo," "Cudi Zone" "Up Up & Away." Later, he explained, "The 10-year anniversary of my first album, man... It's a beautiful journey we've all been on. I wanted to go through some of the old songs and some of the songs I haven't done for a long time."
Next, he moved on to MOTM II, performing "REVOFEV," "We Aite (Wake Your Mind Up)," "Marijuana," "Mojo So Dope," "Mr. Rager," and "Ghost." Then he brought out King Chip for Indicud's "Just What I Am." Following an energetic performance that drew a big reaction from the crowd, Chip proudly reminded everyone, "This song was produced by Kid Cudi, y'all!"
Rapping onstage with his longtime collaborator, Cudi couldn't stop smiling, which was a constant throughout the evening. During the decade-spanning set, he showed a genuine sense of enthusiasm about running through his catalog, stopping at times to yell things like "Fuck yeah" before playing old songs that he rarely gets to perform. It was clear Cudi took a little extra time when he put together this setlist.
The packed crowd at the Pigeons & Planes stage approved. At the end of the night, a fan yelled, "I love you," which caught his attention. Cudi replied, "I love you, too," and stopped to sign his arm. "You saved my life," the fan responded. "My name is Jacob. I fucking love you."
As clouds of confetti filled the air at the end of Steve Aoki's remix of "Pursuit of Happiness," Cudi finished the performance (which immediately felt like one of the best of his career) with one more message.
"Jacob, I love you. Get home safe."
We could all feel the love.