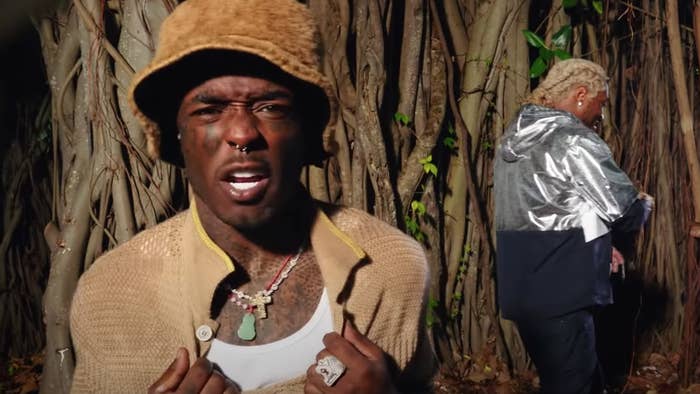 Pluto meets Baby Pluto, at last.
Before unveiling their new collaborative album this week, Future and Lil Uzi Vert shared a Hype Williams-directed trailer that announced their plans to travel to another planet together. "I been trying to warn motherfuckers, the world's over," Future says to Uzi, as their own song blares out of a nearby car stereo. "We gotta go to another planet. Our world. They ain't got no rules. We gotta go to Pluto. They've never been to Pluto."
Uzi took Future up on his offer, and on Friday, a 16-song joint album hit streaming services. Featuring production from the likes of DJ Esco, Brandon Finessin, D. Hill, Zaytoven, London on da Track, Wheezy, and more, Pluto x Baby Pluto blends the worlds of the two rappers as they attempt to one-up each other throughout the album.

There are no additional guest features on here, but when you have two of the best rappers in the world trading verses on each song, what else do you need? After giving the album a few spins, the Complex Music team put together a list of our first impressions. Below are 10 takeaways from Future and Lil Uzi Vert's Pluto x Baby Pluto.
A joint album between these two has felt somewhat inevitable ever since Uzi first started calling himself "Baby Pluto" around a year ago. (We were speculating about it on these very pages before Eternal Atake even arrived.) From a marketing perspective, Pluto x Baby Pluto was always a slam dunk, but would the chemistry between Big Pluto and Baby Pluto outlast the gimmick and actually translate to a great joint album? The answer is a resounding yes. From the very first song, "Stripes Like Burberry," we're reminded just how unhinged from reality both of these guys are (and I say that in the most complimentary way possible). At this point in their careers, both Uzi and Future live in their own self-contained bubbles of over-indulgence. True to the interstellar theme, they really operate in their own universe, disconnected from Earth. Listening to this without context, you would have no idea it was created during one of the worst years in recent human history, and that absolutely plays to the album's advantage. This is escapism rap at its finest. As Future promised, they're here to take us to another planet, and it turns out that planet is full of designer clothing, women, and drugs. These guys were made for each other. In retrospect, it's actually surprising they didn't start a group together years ago. —Eric Skelton
Hopefully by now, this won't come as a surprise to you, but Lil Uzi Vert is very good at rapping. Sometimes that gets lost in all his eccentricities and catchy melodies, but the guy can really rap when he wants to (he didn't end up with one of the best verses of 2019 by accident). On Pluto x Baby Pluto, Uzi shines the brightest whenever the production is stripped away and he has a chance to flat-out rap with minimal interruptions. This happens on the opening verse of "Million Dollar Play," where he effortlessly weaves together a tale about putting out hits on people, while making sure to shout out his jeweler. But it happens most effectively on "Lullaby," which might be one of the most introspective songs of his career so far. Recalling the tragedies of his youth and reflecting on how they've disrupted his interpersonal relationships, he raps, "See, I saw a n***a get killed back when I was a toddler/ So how I'm supposed to love, girl? Now how I'm supposed to fear?" If you hadn't already, it's time to respect the pen. —Eric Skelton
Collaborative albums have a tendency to lean in one artist's favor more than the other, but Future and Uzi are equal contributors on their joint project. The album is featureless, giving the duo more opportunities to go bar for bar without the distraction of outsiders. And while there are a couple solo records towards the end of the project ("Rockstar Chainz" and "Lullaby"), most tracks include verses from both Future and Lil Uzi Vert, and they often share hook duties. On songs like "Stripes Like Burberry" and "Million Dollar Play," Uzi takes the lead, kicking off opening verses with a rapid-fire delivery, but on tracks like "That's It" and "Drankin N Smokin," Future goes takes the lead. It's also impressive to hear how they blended their signature sounds and production styles. "She Never Been to Pluto" is classic Uzi, utilizing an electronic, video game-sounding beat that sounds like it would have found a natural home on Eternal Atake. And then there are records like "Sleeping on the Floor," which is anchored by flute sequences and includes production from one of Future's go-to producers D. Hill. It's a true collision of sounds, executed seamlessly. —Jessica McKinney
Is there anything better than being able to hear rappers having a great time on record? It's easy to fake and impossible to replicate. Future and Uzi are having such a good time on the album, they don't want to share the spotlight. 16 songs and 0 features? In the streaming era? Your fave could never. Uzi has had one of the best years in recent rap memory, but on this album, Future sounds galvanized. It's like when you take your dog to the park and they interact with a puppy and all of a sudden have newfound energy. On songs like "Bought a Bad Bitch," Future sounds better than he has in years, unfurling a double-time flow with the precision of a watchmaker. He still occasionally coasts, but this isn't an album either of these artists had to make for their legacies, or even their 2020s. This album exists purely because Hendrix and Uzi found some stylistic similarities and enjoyed the results. It's also going to make them a shitload of money, but let's all enjoy the artistic pursuit of greatness for just one minute! —Will Schube
The album's only real flaw is occasional redundancy. Future and Uzi cover a lot of ground here, jumping from high-energy records like "Real Baby Pluto" to late-night, codeine-infused anthems like "Drankin N Smokin." But there are points in the tracklist where the songs start blurring together and things feel a little redundant (which was also the downfall of Future's High Off Life earlier this year). If they trimmed a handful of songs off the tracklist, like "F-Off Dat" and "Marni On Me," this would have been a bulletproof album. You might have even heard more fans throw around "AOTY" claims. As it stands, Pluto x Baby Pluto is still very good, but it could benefit from having a little fat trimmed. —Eric Skelton
Is it possible that Future's toxic alter ego rubbed off on Uzi? Throughout the album, the duo make a point of addressing their usual topics—riches, jewelry, women, status—and they revel in their sleaziness throughout. Future, of course, wins the award for being the most toxic, as his lyrics often detail more graphic activities. "Yeah, that bitch say I'm gifted and gave me a stiffy, I'm fuckin' that ho for the low," he spits on "Real Baby Pluto." On "Drankin N Smokin," he compares himself to a Biblical character, rapping, "She called me Messiah, the way I floated in her ocean." And on the closing track, he gets right to the point: "I got your bitch tryna eat my pelvis." Future might maintain his position as "Toxic King," but Uzi is trailing close behind, thoughh. "I turned my bitch into a freak," Uzi raps on "Marni On Me." He then acknowledges his sleazy behavior on "Sleeping on the Floor," spitting, "Two bitches, they stay with me/ You know I'm a dog, I stay with two redbones." On "That's It," he raps, "I'm pulling her hair every time, that is it/ She don't wear no underwear in my crib." —Jessica McKinney
Is Lil Uzi Vert making up for lost time or trying to prove that he's one of the most memorable rap stars alive? Perhaps both. From 2017 to March of 2020, Uzi diehards were out of luck. They could arrange as many vision boards as they pleased, but Uzi's Detox wasn't coming. Until it did. Eternal Atake was finally released on March 6, and the most surprising part? It's as good as the hype. Uzi delivered upon his promise, and then doubled down when he dropped Lil Uzi Vert vs. the World 2 just one week after the release of his first album in over three years. Calling this an uptick is an understatement. With the release of Pluto x Baby Pluto, Uzi has nearly doubled his output in 2020 alone. So, why the sudden surge of productivity? In truth, there's probably not one clear answer. It seemed to be a perfect storm of label issues, general rapper drama, a bad case of perfectionism, and rising stakes that took Uzi so long to release new music. Once Eternal Atake was received to nearly unanimous acclaim, Uzi opened the vault. He's trying to prove himself in 2020, and it's working. It's been a long time coming, but when the songs eventually came, they came in waves. Few artists have cashed in on their potential like Lil Uzi Vert has this year. Let's just hope it's not another three years before we hear from him again. —Will Schube
I know. But hear me out. Just because Drake is the most famous rapper in the world doesn't mean he's perfect for every project he's involved in (*ducks*). At times, What a Time to Be Alive was predictable. Since both artists are very often great, that resulted in an album that was oftentimes good, but nothing on it appeared out of the ordinary (aside from the fact that Drake and Future found time to record the tape at all). On a molecular level, Uzi and Future are a more natural pair than Future and Drake. The way the two Plutos attack the beat in similar ways leads to an easy chemistry that guides the project. Uzi is a chameleon, and his moves are unpredictable to the point of seeming randomized. He's spitting bars about stacks of money as tall as his frame one minute, crooning about love the next. He's the perfect foil for Future, who brings one thing to the table but does it better than anyone else in the game. Because of Uzi's versatility, he's the perfect partner for Mr. Dirty Sprite Legendary. —Will Schube
Before the arrival of Pluto x Baby Pluto, our expectations were cooled by two somewhat disappointing pre-album singles: "Over Your Head" and "Patek." When the project arrived, though, neither of those songs were on the final tracklist. I guess they saved the best for last. Where the singles were a little bland and forgettable, Uzi and Future let themselves get weirder and have more fun on the rest of the album. Maybe they released everything in the order it was created, and their chemistry grew over time? Either way, the album outshines the singles, which is always a nice surprise. And by choosing to leave them off the project altogether, it seems Uzi and Future realized this, too. —Eric Skelton
Uzi and Future had already released enough music in 2020 to keep their fans fed until well into 20201. And especially during a year in which many artists have postponed albums indefinitely, they really didn't need to release Pluto x Baby Pluto right now (but we're sure as hell glad they did). Maybe that's actually what makes this work so well. For a collaborative album between two megastars, there weren't unbearably heavy expectations piled on this before it arrived. Each of their fan bases were already satisfied, and this album came as a bonus surprise at the end of an already productive year for both. The timing was right, though, so they did it anyway. Relatively free of expectations, they delivered a cohesive joint album that has very high highs and minimal lows. Don't be surprised to see this as a late entry on a lot of 50 Best Albums of the Year lists in a couple weeks. —Eric Skelton