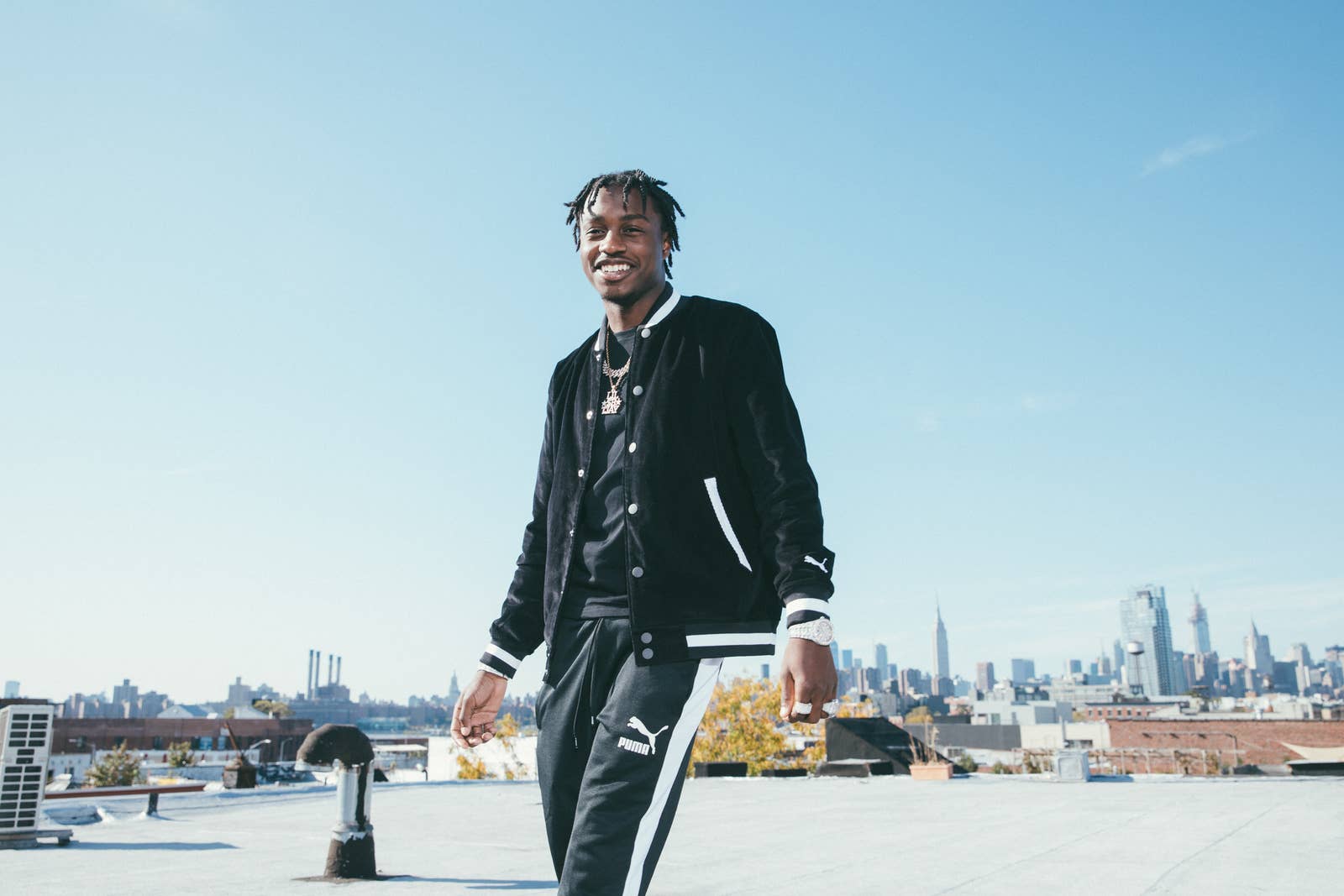 It's a little past 10 in the morning when Lil Tjay walks into an unassuming photo studio in Williamsburg, Brooklyn for a Puma shoot. Sporting his signature "Lil Strictly Business Tjay" chain, the 18-year-old rapper arrives with a full entourage in tow. After meeting the crew and getting settled, he makes his way to the wardrobe section to check out the latest iteration of Puma's RS-X, the RS-X Cubed, which doesn't hit retail until November 21. Although Tjay wouldn't call himself a true sneakerhead, he's not bashful about describing how he can cop any sneaker he wants, when he wants. Getting access to the RS-X Cubed before anyone else is just another example of his ability to snag exclusives. 
"I'm a casual sneaker person, I like to be calm drippy," Tjay explains. "Basketball sneakers are for people who want to be comfortable. I rather be uncomfortable and just look nice." He laughs, before clarifying, "Not uncomfortable but you know what I mean... I love the [RS-X Cubed], it's a cool sneaker. Puma got some drip."  
While his management team parses the room to see the different backdrops that will be used today, Tjay begins play fighting with his childhood friends at the shoot. The South Bronx native is exuding a surprising amount of vigor for someone who only got three hours of sleep last night. "I went to bed at 6 a.m.," Tjay shares while sifting through clothes. When asked how does it feel to be a teenage rap star, he beams, "I feel amazing to see myself here right now. Honestly, you even just saying that woke me up again."
Tjay's life has completely changed for the better over the last three years, but he's still not where he wants to be. "I set my expectations so high, I don't even understand what's really going on because I'm always working," he says. "Outside looking in, people may say, 'This n*gga doing big things,' and I know I am doing big things."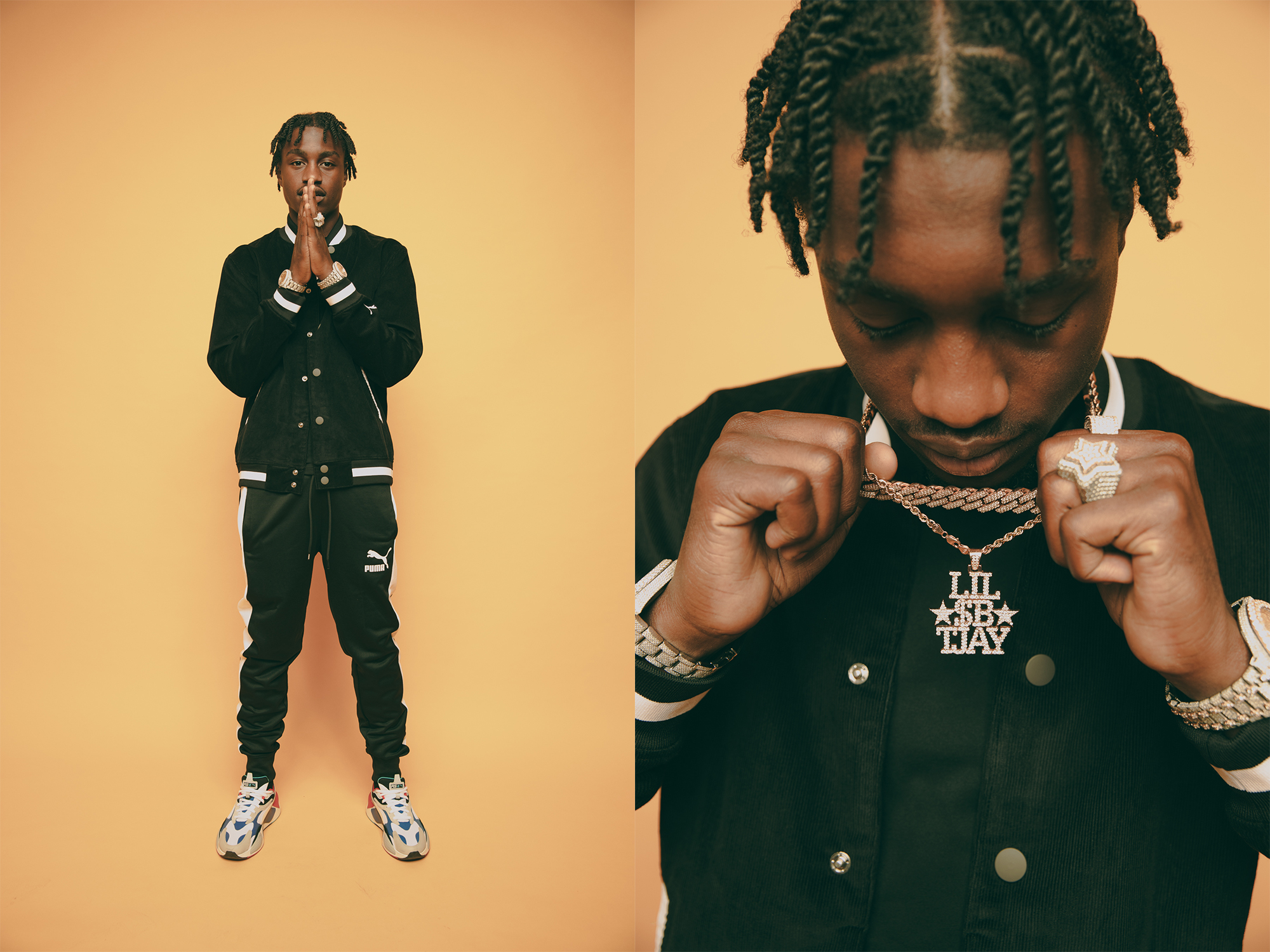 Born Tione Merritt, Lil Tjay grew up in a neighborhood where getting in trouble was the norm. Unlike many of his peers, Tjay found a way out through music and walking down that path has led to early success. This past October, he was able to perform in front of thousands at Citi Field for the inaugural Rolling Loud New York. That same weekend he dropped his major label debut, True 2 Myself, via Columbia Records.

The 17-song album is comprised of melodic street tales that reflect on the troubles Tjay has faced coming up. From addiction to lost friends, the project covers what it's like to be a teenager who's forced to grow up while living in one of New York's toughest neighborhoods. The contents of the LP are a familiar hip-hop story most fans have heard before. But for Tjay, the album is more of his mental bookmark to indicate how far he's come. 

"That's why I named my [album] True 2 Myself, meaning I'm not going to lose myself," he explains. "This will always be me at this part of my life. Even when I'm older, I might be in a different head space, but I want to be able to go back to True 2 Myself and remember this season. It's really for me. When I make my music, I try and speak to me. I try to go back and hear it, so my music gets me through the times, you know what I'm saying?"
Music has been a part of Tjay's life since he was a toddler. The oldest of three, he grew up listening to his mother playing songs from artists like Michael Jackson and Usher around the house. He later discovered newer musicians such as Justin Bieber, Chris Brown, and Drake. "I literally grew up listening to R&B. I wanted to be a singer at first," he confesses. "That was my first dream."
Tjay's affinity for R&B grew to include hip-hop as well, and the idea of a musical career began to feel like his path. "I used to just hope I run into somebody one day and rap," he continues. "That's how bad I felt I wanted it, I just felt that I knew this has to happen. It was my biggest dream. It wasn't on some shit like this sounds cool. I felt like this was what I live for, this is my purpose of living."

"I always had the ability to make different melodies," Tjay adds. "I would sing in the shower and try stuff because I wanted to be a singer. I would write shit and it sounded good. I was like, I gotta go harder, every line got to be crazy. I would listen to people's songs on the radio and think these songs ain't all that."
"It does feel weird that people look up to me, but thinking about myself from an outside perspective, I probably would look up to myself if I wasn't me."
Tjay's first time ever in the studio came in late 2017 when he recorded what would become his first hit, "Resume." Only using Facebook for promotion, he released the record on SoundCloud and says it gained about 5,000 listens in just two days. To date, the track now has over 28 million streams on SoundCloud and over 16 million views on YouTube. "I just thought about it really hard and tried to make the best decision and once I got the buzz, it really made me more hungry," Tjay says. "I couldn't do anything else."

Tjay's sing-rap style falls right in line with the current sound of New York hip-hop—melodic piano-heavy street records. Tjay stands out from the pack due to his boyish charm. He's playful with his melodies yet still carries an underlying sadness with him that stems from his past grief. 

With money in his pocket and momentum on his side, Lil Tjay promised his mother that he would stay off the streets and focus on his music career. That's just what he did. His next string of singles—"Long Time," "Goat," and "Brothers"—collected millions of plays and by the fall of 2018, record labels were racing to sign him. Completely new to the music industry and how the business side of things work, Tjay would initially walk in to these meetings with nothing but his homies. "Me and a couple friends would pull up and they would be like, 'Where's your manager? Where's your lawyer?' and I would say, 'I don't have one. Wussup, y'all got the money?" [Laughs] Eventually, he would get a manager and lawyer and choose to sign with Columbia Records.
Tjay's meteoric rise is a testament to the evolution of the music industry, which sees kids go from relative obscurity to burgeoning stars in the blink of an eye thanks mostly to the power of streaming services. Tjay went from a teenager from 183rd Street in the Bronx to his family breadwinner within two years. True 2 Myself made its debut within the top 10 on the Billboard 200, landing at the No. 5 spot. It's been a whirlwind so far in Tjay's young rap career but he's up for the task.
"This whole experience has been great for me, this is my first album," he whispers while fixing his jewelry. "The time to fuck up would be right now, so I'm just trying to learn everything that I could and take in as much knowledge as I can to get this thing right. I love this project, I love the outcome of it."
"THIS WHOLE EXPERIENCE HAS BEEN GREAT FOR ME. THE TIME TO MESS UP WOULD BE RIGHT NOW, SO I'M JUST TRYING TO TAKE IN AS MUCH KNOWLEDGE AS I CAN TO GET THIS THING RIGHT."
When asked about what it's like to be a mouthpiece of his neighborhood at just 18-years-old, he shrugs and laments that he had to grow up a lot faster than most kids his age, way before he started rapping. "It does feel weird that people look up to me, but I just think about myself from an outside perspective. I am somebody to look up to. I probably would look up to myself if I wasn't me." 

He continues, "People want to speak to me more, people want attention all the time, a phone call. It's kind of hard to do that." Because of fame Tjay has to be cautious of how he interacts with associates and friends now. For a teenager barely old enough to drive, he's very cognizant of his responsibilities.

"Every day I wake up I know at least 10 people off rip that will call me this morning and if I don't pick up and have a conversation, they're going to feel a way," Tjay says. "And that's the type of things that I have to do now. Sometimes I don't have the time to but I do what I can to try and keep everybody comfortable. I like when people love me, I'm [a] loving person."
If you question Tjay about what the future holds for him, he'll give what sounds like a typical rapper responses: plaques, awards, sold out shows... However, that's not just blind faith and bravado but rather his unwavering belief in talking things into existence. Tjay is looking to be more than just a hip-hop star.

"One day I want to say that I am the king of music," he says, smiling from ear to ear. "Right now I'm just playing the hip-hop beat but it's about time. The first album is out, who says what happens next. I want to be a superstar." Tjay reiterates, "I want to sell out arenas. You know how people would ask, 'You know who Lil Tjay is?' I want that to be a dumb question. That's how I want it to be."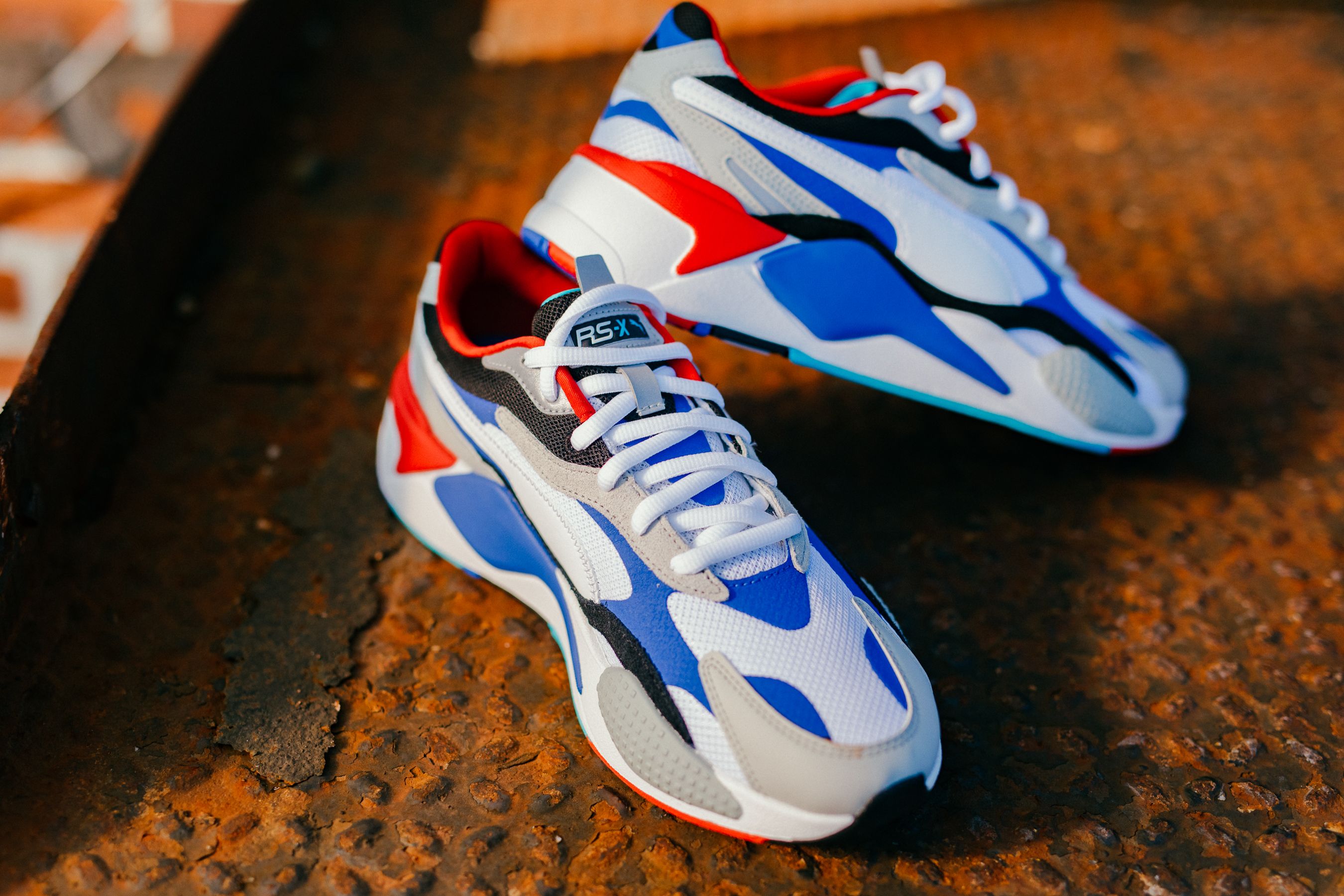 The RS-X Cubed is available now at PUMA.com.