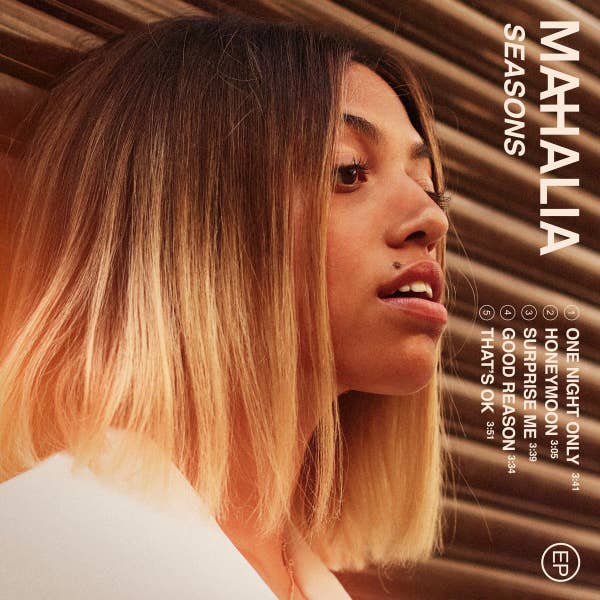 Mahalia's soulful vocals, matched by a pen game that gets sharper with each release, has put her in a position to one day reach the level of the influences she looks up to.
"There's so much music that I used to listen to, like Angie Stone and Jill Scott and Lauryn Hill, and I want to feel like how I did when I listened to their music when I listen to mine," Mahalia told Complex during a recent visit at our New York City office. The UK artist takes a step in the right direction with her Seasons EP.
"With this project, I'm kind of in a phase now where everything I talk about has to do with relationships and love and how I feel about guys and myself and all that kind of stuff," she explained. "My whole life, I've always written when I felt something deeply about something or somebody. And so I've always referred to it as 'seasons' of my life, you know? Like, 'That was that season, and now this is this season. That guy was in that season.' And so with this EP, I wanted to do a five-track—or five-stage—idea of a relationship." 
That relationship narrative plays out seamlessly, where Mahalia's once-electric connection with a guy slowly fades. Things get even more complicated when he tries to enter the picture again. By the end, Mahalia walks away for her own well-being. "You should know that you did wrong/And I should know I can't fix it with a song," she sings candidly on "That's OK."
"It's my own personal journey," she continued. "I imagine that people may relate to like one or two or three [tracks]. I'm not expecting the whole thing to relate, but the whole thing is based on me, and I think people will get something from each track differently."  
Stream her Seasons EP below and grab it on iTunes. Mahalia will be hitting the road in Europe this fall; ticket purchase and more info can be found here.