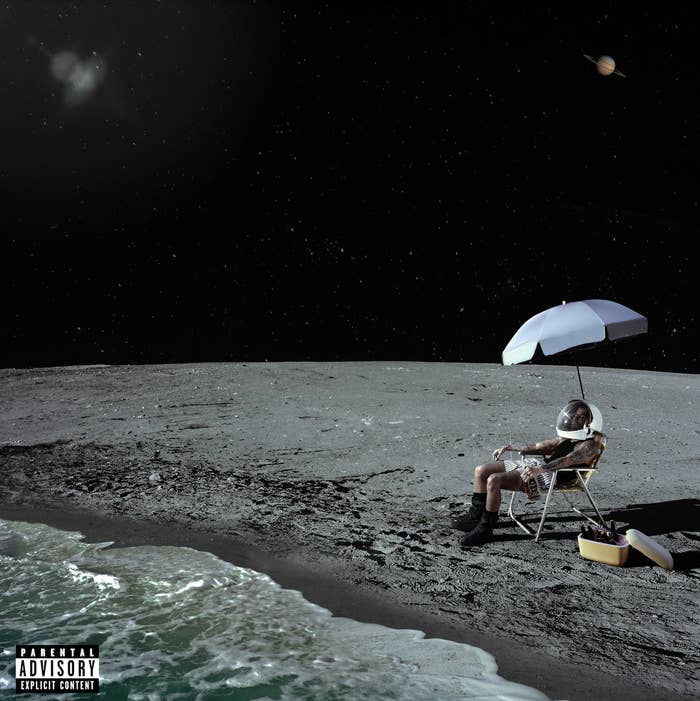 Best song?
Kimberly: There are so many great songs in this album but I have to go with "Al Callao" as the best song. It has THAT reggaeton beat you can dance, work out, make a TikTok, and drive to at full volume. This song will go viral!
Cindy: "Cuando Baje El Sol" is a fun, "jam in the car at full volume" type of song, especially now in the summer.
Alejandro: "Baby Hello" is easily the biggest hit here. Bizarrap's production genius fused with Rauw's seductive lyrics blend seamlessly into a global hit. This song is already going off in clubs around the world and will continue to for the foreseeable future.
Ecleen: Rauw was smart to tap the old-school heavy hitters here. "Celebrando" with Ivy Queen is my pick for best song in the first batch of early listens and likely the one I'll keep coming back to; I predict it'll age like wine. The Queen and Rauw converge at a sweet spot of their sonic signatures here and at its halfway point, I can't pinpoint what era of reggaeton's evolution I'm in; it's both of the past and calling to the future. A breathless run from Rauw followed by a honeyed heartfelt sung-whisper bridge from both of them makes me feel like I'm floating. This is what a collaborative track should sound like.
Christina: "Celebrando" featuring Ivy Queen, I'm a sucker for classic reggaeton bangers and this hit the spot for me!
Biggest skip?
Kimberly: "Hoy Aquí" stands out as one of the skips for me. Although it might sound better live, it reminds me and sounds similar to "Lejos Del Cielo" from his Saturno album. At 2:06-2:12, there's just a lot of beats put together, making it a bit chaotic to listen casually or vibe to.
Cindy: "No Me Soprende," if listening in order, coming off of Ivy Queen, this slow song wasn't the vibe. I did just want to hit next because I wasn't feeling it. Not that it was a bad song but I could say it's not my favorite.
Alejandro: "Si Te Pegas" is the least interesting of the bunch. It's the oldest sounding reggaeton beat and unless it's from '96, it really shouldn't make a return. The 10-second ending slaps though.
Ecleen: "Inquieto" is quite skippable for me in that, similarly to "Diluvio" it sounds like something I've heard from Rauw before. There's nothing inherently wrong with it, and as part of its whole, I wouldn't go out of my way to skip, but I was expecting more surprise elements from a surprise album.
Christina: Sorry there's no skips...
Best thing about the album?
Kimberly: The best thing about the album is its experimental sound and its ties with his previous album, Saturno. Some of the beats sound so familiar with a mosaic of throwback sounds which include '80s freestyle, house, old-school reggaeton, proving his innovative creativity. Very intergalactic!
Cindy: I know Rauw's thing has been the "outerspace" theme in his last tour and now the album so the different sounds/beats used in his songs are pretty on theme and are cool. I like when artists make their own sounds and experiment with their music.
Alejandro: It sounds like Rauw is just having fun and wants everyone to join the party. He fuses what he's done in his past albums Vice Versa, Afrodisiaco, and Saturno into one big beach party album.
Ecleen: Although this can sometimes be a bad thing, the best thing about this album is that it isn't trying too hard. Serving as a sort of extension of Saturno meant for summer days in the sun, it's a smooth, straight-through listen.
Christina: I like the mix of genres, it for sure has summer/playa vibes all over it, but he played with new sounds and tracks––like "No Me Sorprende" proves that.

Worst thing about the album?
Kimberly: Playa Saturno is good obviously, but it falls a bit flat compared to Saturno. Saturno set the benchmark, where we saw an aesthetic with space and lunatic atmospheres that were perfectly executed creatively as well as musically.
Cindy: I feel like it had a few more low-speed/slower moments than I thought. We don't need to have perreo intenso the whole time but not sure I was expecting the lulls.
Alejandro: I don't see it as a bad thing but a common thing that turns people off to the genre, is too much reggaeton beats because of the similar sounding songs. I can see a first-time listener having that critique and refusing to be obsessed with the album.
Ecleen: It feels like there are a few singles here that Rauw could have parsed out and released throughout the summer but they kind of get lost in the lulls of the otherwise flatline album.
Christina: I will admit, I was expecting Rosalía to pop out somewhere on this album and was a little sad when she didn't. I love them together lol!
Biggest surprise?
Kimberly: Miguel Bosé was the biggest surprise! This is the first time Bosé experiments given that he has had issues with his voice for eight years. What a comeback! Junior H was also a surprise on "Picardía." Rauw is tapping in with these unique collabs that I would assume are the 5 percent "otra cosa". He's having fun with it while tying it back to Saturno and la isla del encanto, Puerto Rico. "No me Soprende" definitely caught me by surprise because Rauw Alejandro's musical style includes pop, reggaeton, R&B. The song title literally matches my impression.
Alejandro: "No Me Sorprende" ironically was the most surprising, throwing a reggae roots song is always a treat and this was well executed. Going for the full beach vibes, this song provides a well-earned break from the Saturno party.
Cindy: Just looking at the song list and the features/collaborations and I see Miguel Bosé?! That was unexpected for sure. But I actually really enjoyed the "Playa Saturno Intro," it was like a very cute, pleasant beginning to the album. Plus his message about what he wants his music to be for the fans was very sweet. One of the better intros I've heard which made me excited for the rest.
Ecleen: The Miguel Bosé flex for sure.
Christina: Besides the fact that we are getting this album only six months after his album Saturno. I would say seeing Junior H on this album was a great surprise that I was not ready for. I'm all about more regional Mexican artists finally being seen/heard in mainstream music!
Final thoughts/overall first impressions?
Kimberly: I can definitely hear the tie-in with his previous album, Saturno. Some of the skips will eventually grow on me when he performs them live. I like that Rauw also chose to make a collab with Junior H, who is known for his corridos tumbados and was featured in two of Peso Pluma's album, Génesis. It's like all my faves are supporting and recognizing each other. On the other hand, I'm not sure how I feel about "No Me Soprende" being the only reggae song in the album. The transition leading up to it wasn't as smooth as I thought it would be. Was the album enjoyable to listen to? Yes! Did I expect the 5 percent "otra cosa" to be different? Yes! I mean, he did give a heads-up.
Cindy: There are some jams in the album and I enjoyed listening through it! I can see using the songs in different playlists/moods, but overall a good album.
Alejandro: I can see Rauw's aim at having this as the beach party music for the summer. Returning to his interpretation of the old-school reggaeton sound it seemed like an easy homerun and complements his Saturno album wake where he experimented on different sounds.
Ecleen: This effort feels rooted in an effort to remain in the mix of both conversation and playlists, and I respect it. Rauw is having fun and one of the best artists in the space right now so a light, fun album is OK, and maybe even welcomed by some for summer. I would like to see more of the experimentation he touches on in the likes of "No Me Sorprende" and collaborations like that of Bosé's. What was once experimental is now expected, and getting to the next level is going to take more. For now, we can all enjoy this with a beer or mocktail on the sand.
Christina: There's something for everyone on this album: Junior H on "Picardía," Ivy Queen on "Celebrando," Miguel Bosé on "Si Te Pegas," Jowell y Randy on "Ponte Nasty" and Ñejo y Dálmata on "No Me La Moleste.'. Just looking at the features alone proves Rauw was just having fun with this album and was ready to play with some new sounds.