In clinical terms,Love & Hip Hop is a long-running reality franchise about the personal and professional struggles of figures in the music business. In colloquial terms, it's a ratchet-reality soap opera with around 200 interwoven characters. Many of them exist at the periphery of the music industry; others have won Grammys, gone platinum, and crafted No. 1 records at some point in their career. In nearly every episode, there is an obligatory scene of one or more of them in the studio. But with very few songs released, we need to know: What exactly are they working on?
LHH is the cornerstone of Vh1. In 2017, the network had four of the top 10 unscripted shows on cable, and the Atlanta and New York editions were Nos. 1 and 2, respectively. And shows weren't measured in "social engagement" before Love & Hip Hop started dominating Twitter each time an episode aired. All this to say, everyone is watching the show. Everyone is talking about the show. But no one is fucking with the music from the show.
In fact, for a program called Love & Hip Hop, only one featured personality from its cast is actually relevant for their current musical output: a former stripper with minimal prior rap experience named Cardi B.
And no one saw her coming.
When Cardi joined Love & Hip Hop's New York cast in season 6 she was already a social media starlet with over a million followers on Twitter (she now has 2.8M). She was known for her personality, not any musical inclinations, and had retired from the pole two months before the season premiere on December 14, 2015. By that point Cardi had started making a whole living off club appearances. But Vh1 wanted to portray her as a silly exotic dancer languishing in a messy situationship.
"Yo, it's so crazy, like, them motherfuckers [the producers] really doubted me. It's like, why would y'all doubt me? Like, I have seven hundred thousand bajillion followers," she told THE FADER in February 2016. "I'm telling them like, 'Yo, I have a brand. I'm not even an artist and I fill out clubs. Three thousand, whatever the crap, I fill them shits out!' But they didn't care about that. They just wanted to make me look as the stripper, a struggling stripper."
love & hip hop may help raise an artist's visibility, but for all the wrong reasons when it comes to their actual artistry.
And indeed, she played her part. In her now-legendary LHH video introduction, Cardi announced, "Hey, America, washpoppin'? You might know me as that annoying dancer on social media that be talking hella crazy, with the long nails and the big ol' titties, but I'm just a regular, degular, shmegular girl from the Bronx." We went on to see Cardi's frustration over Power 105 radio personality DJ Self, whom she slept with occasionally, not playing her music. In her words, he was "the hottest DJ in New York or whatever" and she was willing to deal with him seeing other women so long as he helped get her music played.
See, for most of the show's history, that was the dynamic: The men were the legitimate figures in the industry, and the women were around to jockey for their assistance or attention. Remember how Stevie J. constantly threatened to send Joseline Hernandez back to the strip club on Love & Hip Hop: Atlanta? Like no character before or after her, Cardi B. was able to flip the script.
To understand how disruptive Cardi was, we should rewind. The show's earliest iteration, Keeping Up With the Joneses, centered around Dipset rapper Jim Jones, his longsuffering girlfriend Christine Lampkin, and outspoken mother, Nancy "Mama" Jones. But Jimmy became less interested after he released his most successful single, "We Fly High." To save the show, manager Yandy Smith and her mentor, Violator Management co-founder Mona Scott-Young, bumpedJones down to supporting cast member, and elevated Chrissy and her friends to the main cast. Re-christened Love & Hip Hop, the show was now giving visibility to the women behind famous men in hip-hop.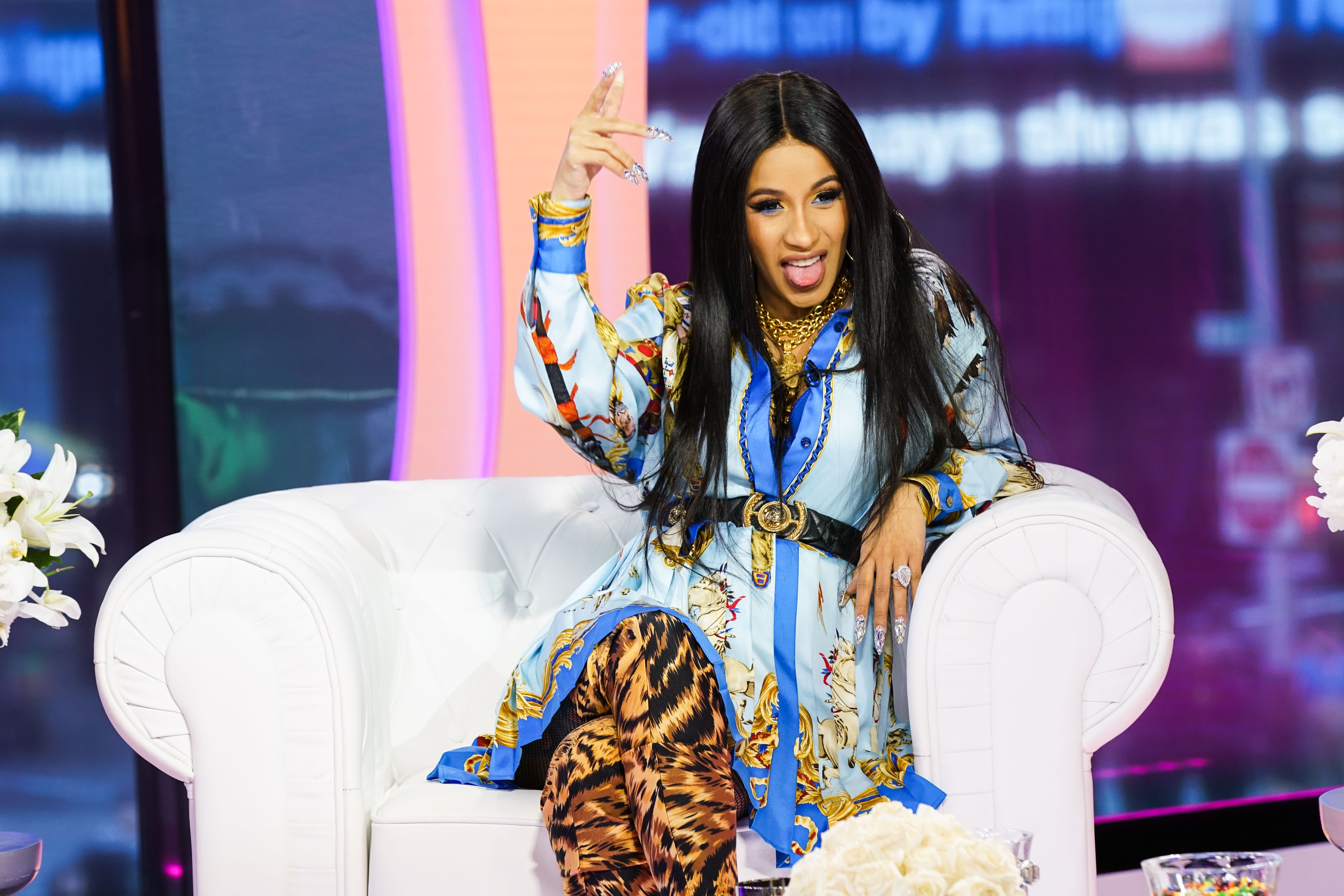 Now, fast-forward: Cardi B. came on the show with a game plan, and it wasn't to be behind anybody. Her cunning, singular focus is perhaps what allowed her to become the show's unlikeliest success story. This theory makes more sense when you consider that Cardi quit after two seasons in order to pursue her music. She paused the shenanigans to go work on her craft, instead of posturing in the studio like many of the men we see every episode. Within months of leaving LHH, she released her second mixtape, signed a multimillion-dollar record deal, then released "Bodak Yellow." And within a year of her last trip to Vh1, Cardi had a No. 1 record, two Grammy nominations, and multiple pop and hip-hop features dominating the charts.
Given her beloved personality, Cardi could've easily joined the likes of LHH mainstays Stevie J., Lil Scrappy, and Yung Joc, bouncing between spinoffs in reality TV purgatory. But unlike them, Cardi didn't want chasing checks from Mona Scott-Young to be her ceiling. "A lot of the n***as on that show are cornballs, but it is what it is," clairvoyant Cardi said in an interview right before she left the LHH.
That about sums up why no one who continues to appear on the show is likely to break through on the charts any time soon. LHH may help raise an artist's visibility, but for all the wrong reasons when it comes to their actual artistry. We all agreed amongst ourselves that the franchise was fake, but it was a juicy lie that we enjoyed pretending to believe. Cardi's contrasting authenticity made us step into the light.
Cardi could've easily joined the likes of LHH mainstays Stevie J., Lil Scrappy, and Yung Joc, bouncing between spinoffs in reality TV purgatory. But Cardi didn't want chasing checks from Mona Scott-Young to be her ceiling.
Millions of people rallied behind her as a person—she could have sold us anything she wanted after that, lip kits or weave—but she chose to sling hits. Cardi didn't blow up the day after she left, no. But she was persistent and converted momentum into clout. Some of the credible artists remaining on LHH, like Remy Ma and Trina, haven't been able to figure this part out yet—even though both have albums on the way and purposefully steer clear of the drama by limiting their camera time. There appears to still be an understanding of their brand equity, which is something many of their peers seem to lack, but the reality of reality TV is that it's a means to an end.  
As we sit here in the afterglow of Cardi's soon-to-be-crowned No. 1 debut album, her feature on Saturday Night Live, and third appearance on The Tonight Show With Jimmy Fallon, we have to respect what she's achieved. Cardi was an underestimated woman whose role on LHH was to orbit the "powerful" men, but yet she launched past them all. As a soon-to-be mother engaged to one of the hottest artists in the industry, she's basically secured the love and the hip-hop without the cameras. It's doubtful anyone else on the franchise can replicate those shmoney moves.