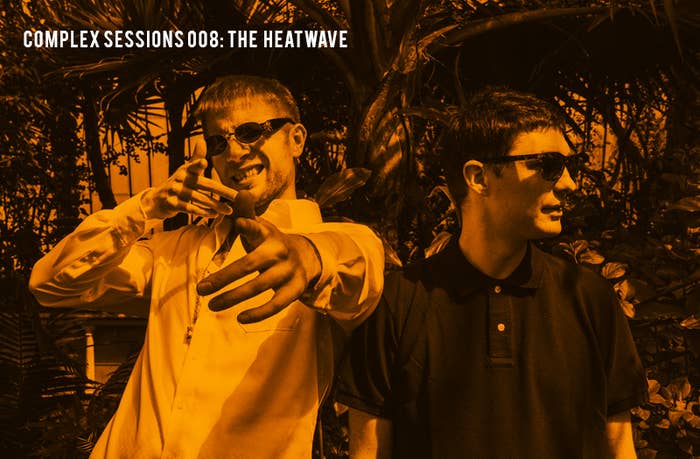 Gabriel Heatwave's regular show on Radar Radio has become a staple for all dancehall and bashment fans. As The Heatwave, alongside Benjamin D, the duo have been pushing dancehall, bashment, and anything from the Caribbean that could raze a club to the ground, for years. Outside of radio, The Heatwave's Hot Wuk parties have earned a reputation as being one of the wildest bashment club nights in the UK.
The Heatwave aren't just gifted selectors with an encyclopedic knowledge of dancehall and bashment: they have also cut a couple of their own tracks, collaborating with only the finest new voices in UK and the Caribbean. After you've taken in their mix below (and probably smashed up your house as a result), check out their collabs with heavyweights Riko, Rubi Dan, Warrior Queen and Serocee. And make sure you catch their soundsystem at Notting Hill Carnival this year.
Tell us a bit about your selections in this mix.
Gabriel: These are the biggest dancehall tunes from the past year. You will hear them all blazing out over soundsystems on the streets of Notting Hill come Carnival weekend.
What was the one track you absolutely had to include?
Ben: The tune that closes the mix: "Bruk Off Yuh Back" by Konshens. It is far and away the biggest bashment tune of 2016; definitely the most requested tune at our dances in recent months, especially from our female ravers.
Any tracks that narrowly missed the cut?
Gabriel: If we did the mix again today, we'd definitely include "Fever" by Vybz Kartel—but it hadn't dropped when we recorded it. "Work" by Rihanna and Drake could've definitely slipped in there, too.
What's the first single or album you ever bought?
Gabriel: The first album I ever bought was Push by Bros—on cassette from a newsagents in the late '80s. I don't remember the very first single I bought but definitely one of the early ones was "Incredible" by General Levy—again, on cassette. Still have it to this day.
Ben: "Blue (Da Ba Dee)" by Eiffel 65, or Sisqo's "Thong Song".
What's the last physical record you bought?
Gabriel: I still pick up second-hand vinyl occasionally, and the last batch included '90s ragga from Papa San and an early Shaggy dancehall release. Couple weeks ago, I picked up two of my all-time favourite albums on CD from Oxfam: The Stone Roses' debut album and Blue Lines by Massive Attack.
Ben: I picked up a load of CDs in Jamaica, including a good Bass Odyssey set and a live recording of Charlie Chaplin, Luciano, Ninjaman and Lieutenant Stitchie.
What do you want to see happen musically over the next 12 months?
Ben: It would be great to see more authentic dancehall reach the pop charts. It's cool that so many mainstream artists are making dancehall-influenced hits, but there's always space for hardcore Jamaican tunes crossing over too.
What trend or scene absolutely needs to die right now?
Gabriel: "Absolutely needs to die" seems a bit extreme [laughs], but it is a bit annoying to see people jump on the dancehall trend and do it really badly. Naming no names!
Tracklist:
01. Beres Hammond & Bounty Killer - Anything Goes
02. Vybz Kartel - Dancehall
03. Alkaline - Champion Boy
04. Aidonia & Sean Paul - Buddy Bruka
05. Demarco - Puppy Tail
06. Gage - Throat
07. Alexus Rose - Apart
08. Justin Bieber & Vybz Kartel - Sorry (The Heatwave Refix)
09. Drake, WizKid & Kyla - One Dance
10. Timaya - Sanko
11. Patoranking - Daniella Wine
12. Konshens - Bruk Off Yuh Back