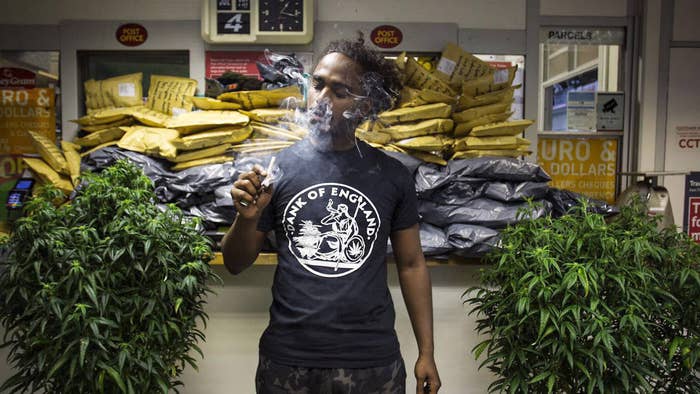 UPDATE (July 8): Black The Ripper's family has confirmed the cause of his death. In a statement shared to Twitter by close friend, UK producer Dexplicit, they wrote: "Our beloved son Dean died from a sudden heart attack. The family would like to thank you for your patience at this tragic time. We appreciate your support and hopefully we can start to find some closure in time."
You can read it via the tweet below:
May he rest in peace.
UPDATE (April 7): Authorities in the Caribbean country of Montserrat, where Black The Ripper had been vacationing since February 25, have confirmed that an autopsy has been ordered after he was found dead in the St. Johns district on April 6.
When local police arrived at the home he had been staying in, he was found motionless and was later pronounced dead at the scene. Police say they carried out a full search of the residence, but the cause of death is still currently unknown.
The Commissioner of Police, Steve Foster, said: "At present, the circumstances of his death is unknown. As a result, the coroner (Chief Magistrate) has ordered a Post Mortem Examination to be conducted on the body of the deceased to determine the cause of death. However, I am unable to say and or give a date at this time of when the autopsy examination will be completed."
Original story below.
It has today been revealed that Black The Ripper, the British grime and hip-hop veteran, has passed away at the age of 32, The Mirror reports. 
Born and raised in Edmonton, North London, to Guyanese and Montserratian parents, the artist—born Dean West—was one of the first wave of grime's most revered names, releasing iconic tapes such as Summer Madness, Afro Samurai and Holla Black as far back as 2006. 
More recently, Black The Ripper—who leaves behind a 5-year-old son—had become an advocate of cannabis being legalised in the UK, with his Dank Of England brand (apparel, weed apparatus and more) in high demand across the country.
The cause of his death is currently unknown.
UK music artists, journalists, presenters—everyone from Mahalia and Novelist to Hyperfrank and Poet—paid their respects on Twitter upon hearing the news:
I'll never forget the first time I met him. I went on a random trip to Scotland with

@jovelmusic

to do a grime set.

He literally knew how to make anyone laugh. Such a huge loss 😪💔 sending my thoughts and prayers to his family.

pic.twitter.com/GfPfxRHVtz
No way black the ripper. R.I.P man fuckinghell what a horrible year
Light one up for Black the ripper ❤️🙏🏾 very sad news man
R.I.P Black The Ripper AKA Samson 😞

I remember, when I was 15, he came down to Ipswich with Dexplicit, let me spit on a set with him and got gassed. One of the key moments in my music journey, always stuck with me...

One of the pioneers 🙏🏾Ⓜ️
North London legend

Black the Ripper
RIP Black The Ripper, Cannot believe I'm writing this. One of the first people outside south London I worked with. Such a talent and a great person

God bless him and his family x
I can't believe the news I've just got.
I had good times with you cuz.
Everyone's gonna miss you.

Rest in peace Black the ripper.
My Guyanese brother, Black The Ripper 🇬🇾... We were due to fly over there and put on a small event at some point — one of the real ones in this weird music game. Rest in peace!
We send our condolences to Black The Ripper's family and friends.