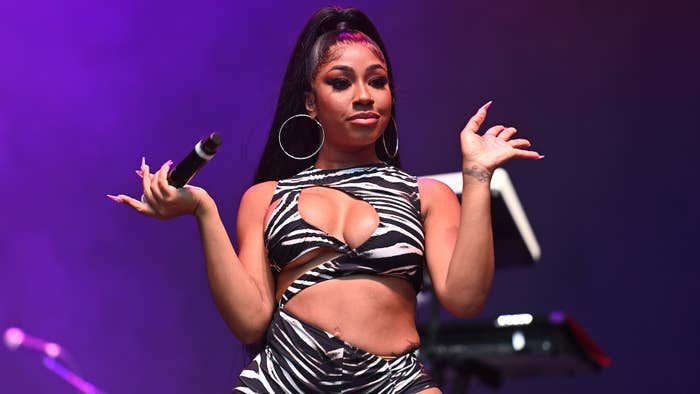 Yung Miami is clapping back at those who are criticizing her for bringing her son, Jai to Rolling Loud Miami.
On Monday, a Twitter user posted a video of Jai backstage at the festival. "You gone address this or…," he wrote to Yung Miami. The clip is from JT's Instagram Story, and shows Jai throwing money at girls who were dancing on stage during Lil Uzi Vert's set.
In a follow-up tweet, she wrote, "That's why I don't post my kids, y'all bitches can talk a sore in yall mouth about me but I'll never give y'all the chance to have an opinion about my kids! Idgaf."
Another Twitter user told Miami that her "6-year-old … shouldn't be out that late and he shouldn't be throwing money at strippers," to which the rapper shared that he's 10 years old.
In a separate tweet, JT revealed that Rolling Loud is an annual tradition for her and Jai. "It's my favorite time 'cause I get to bond with him & turn up! This was the best year. I loved the smile on his face!" She then called herself, "a coooool auntie."
Miami thanked her, saying that seeing them together "literally [brought] tears to my eyes and remind me every time that this shit is bigger than us." She added that it "was the best day of [Jai's] life," and that her son is a huge Uzi fan.