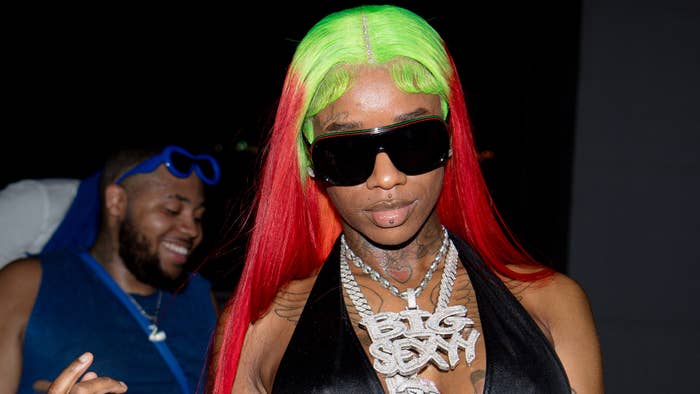 Sexyy Red took her antics to a frat party at UCLA.
Last Thursday, the St. Louis rapper visited the Los Angeles college with Nick Nayersina. The college student and singer-songwriter brought her to the Lambda Chi Alpha house on the UCLA campus. Clips from her appearance show Red performing "Pound Town" in front of a screaming crowd of kids and, of course, twerking.
"We shut it down," Nayersina captioned a video.
Sexyy Red will be headlining her first trek this fall, the Hood Hottest Princess Tour, following her stint as a supporting act on Drake and 21 Savage's It's All a Blur Tour. Red's 20-city jaunt kicks off on Oct. 16 in Boston, with stops in St. Louis, Detroit, Houston, Atlanta, and Los Angeles, before closing in San Francisco on Nov. 29.
She also recently teased a collab with Drizzy. "We be fucking," Sexyy Red told Rolling Loud during its Miami festival. "Naw, I'm just playing. That's my people's. We got a song coming out. I mean, [supposed] to be but I did some little shit on his song. He sent me a beat and I had rapped for him or whatever. He was fucking with it so we gon' see if he drop dat bitch."
Around the same time, she was seen backstage at the Brooklyn stop of Drake's tour. Photos show the two cozying up in a chair with his arm around her; in one pic, Drake kisses her on the cheek, and in another, he looks at the camera with his tongue sticking out. Sexyy can be seen holding her hand against his cheek.