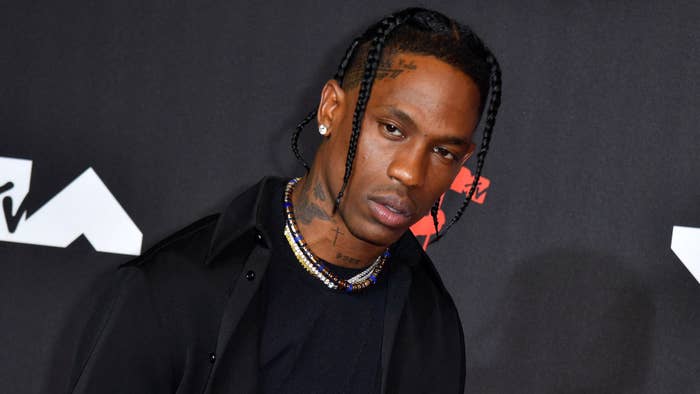 Travis Scott was reportedly not aware of the fatalities at Astroworld festival until after he arrived at Drake's Dave & Buster's after-party in Houston.
"Travis didn't know the severity of the situation when he arrived at the party, as far as timing, this remains consistent with the fact that no one including the police had publicly confirmed the gravity of the events that had taken place," sources told NBC News. "When someone told Travis at Dave & Buster's about the tragedy, he immediately left the party."
According to TMZ, Drake also didn't know that people had died in the crowd. The Toronto native released a statement on Monday, expressing grief over what happened. "I've spent the past few days trying to wrap my mind around this devastating tragedy," he wrote on Instagram. "My heart is broken for the families and friends of those who lost their lives and for anyone who is suffering."
Drake had made a surprise appearance at Astroworld festival on Friday. Authorities say that the crowd started to surge and "compress toward the front of the stage" at around 9:15 p.m. CT, which led to "additional panic," per Houston Fire Chief Samuel Peña.
Travis has since announced he will cover funeral costs for the eight fans who passed away, as well as mental health resources to those impacted by the tragedy. Eight people from ages 14 to 27 died, 25 were hospitalized, and over 300 people were cared for on-site.
Travis and Live Nation have been hit with multiple lawsuits, including one from the family of a 9-year-old boy who's still in a medically-induced coma.