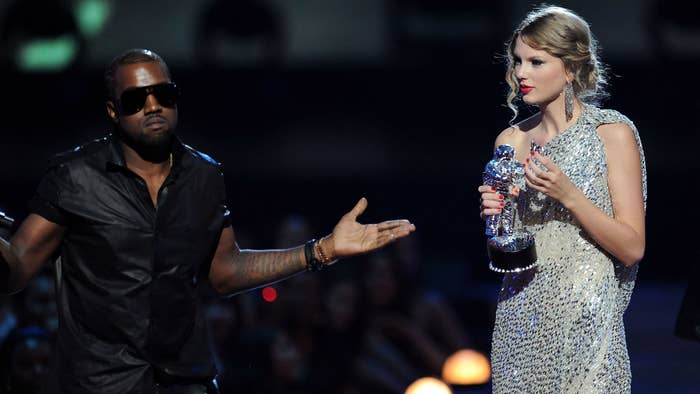 Taylor Swift seemingly nodded to the notorious 2009 MTV VMAs moment involving Kanye West Best Female Videoduring a recent show.
During one of the singer's four back-to-back shows in Mexico City from Aug. 24-27, she was interrupted when fans kept screaming her name. "People chanting your name, it's really the only way to be interrupted," she jokingly told her audience. "And I would know."
It appeared to be a reference to the VMAs when Ye walked on stage and made a scene when Swift was accepting the Best Female Video Award for "You Belong with Me." Yeezy was mad that Swift beat out Beyoncé's "Single Ladies (Put a Ring on It)," and decided to tell Swift just that—in front of everyone.
"Yo, Taylor," Ye said at the time. "I'm really happy for you and I'ma let you finish but Beyoncé had one of the best videos of all time."
He and Swift were at odds for some years, until they squashed their beef. Still, Swift came up again in his 2016 song "Famous" on The Life of Pablo—and he also featured a waxwork model of her body in the music video without her completely knowing.
On Tuesday, Swift broke a record on Spotify by becoming the first female artist in the platform's history to make it to 100 million monthly listeners.