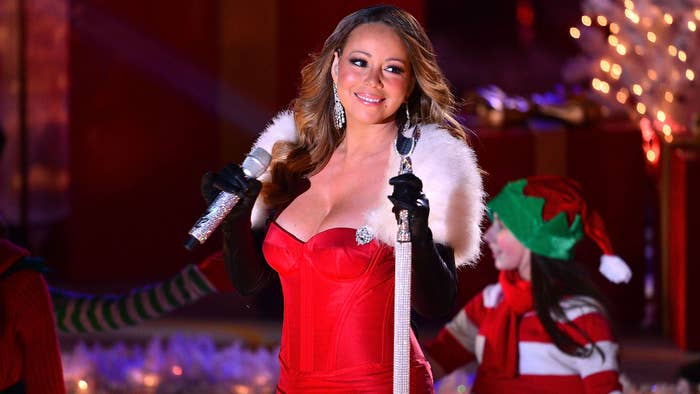 Mariah Carey won't be the official "Queen of Christmas."
CBS News reports that that's what the U.S. Trademark Trial and Appeal Board decided this week, following the singer's decision to attempt to trademark the moniker. She also filed petitions to trademark "Princess Christmas" and "QOC," which also failed in court.
Carey sought ownership of the titles so she could also use them on new products like lotions, perfume, clothing, eyewear, face masks, and music—just some among the range of items she was hoping to make.
A press release from Christmas music artist Elizabeth Chan criticized Carey's attempt to trademark the names. Chan, who has openly protested Mariah's petitions, calls herself "the world's only full-time Christmas music recording artist," and has also gone by the "Queen of Christmas" moniker "for years," she says.
"Christmas is a season of giving, not the season of taking, and it is wrong for an individual to attempt to own and monopolize a nickname like Queen of Christmas for the purposes of abject materialism," Chan said in her statement. "As an independent artist and small business owner, my life's work is to bring people together for the holiday season, which is how I came to be called the Queen of Christmas. I wear that title as a badge of honor and with full knowledge that it will be—and should be—bestowed on others in the future."
Carey has long had a chokehold on the Christmas season with her 1994 hit record, "All I Want for Christmas is You." Last December, the iconic song returned to No. 1 on the Billboard Hot 100, marking the third time the track has reached the top spot.
According to Chan, if Carey won her petition, the superstar would be able to file suit against anyone who used the phrase and would be able to seek licensing fees and royalties. Regardless, Carey has still released her own holiday picture book The Christmas Princess, which follows a character named Little Mariah.