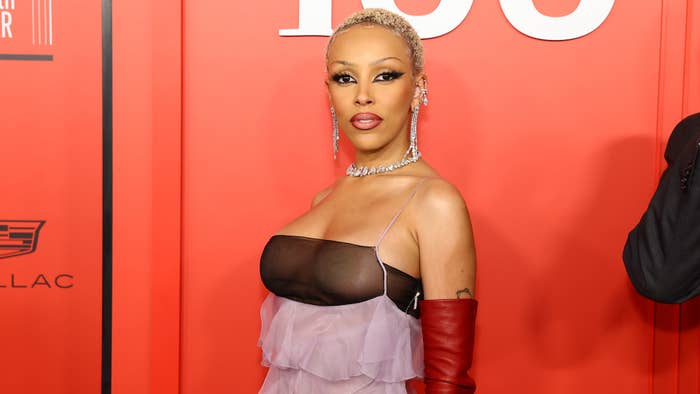 Doja Cat's latest tattoo is of a bat skeleton.
The 27-year-old showed off her new ink on her Instagram, posting a handful of photos, captioned with the bat emoji. The first image is a photo the artist took of herself in the mirror, showing something on her back that's quite hard to see. But in the following pictures, she reveals a bat skeleton, centered on her upper back, with the bones from the wings extending across her shoulders.
She shared the meaning behind the tattoo as well. A screenshotted passage reads, "Bats often represent death in a sense of letting go of the old, and bringing in the new. They are symbols of transition, of initiation, and the start of a new beginning."
This isn't Doja's first time getting inked. Earlier this year, she debuted her first two tattoos at the Grammys. One, located on her left bicep, is of a devil holding a pitchfork, and the second is of a spider on her forearm.
On the same day of the awards show, early in the morning, she tweeted, "got my first tattoos today."
She's since gotten a cow skull tattooed on her inner wrist, done by celebrity tattoo artist Dr. Woo. She also has a monster tattoo on her arm, inspired by Fortunio Liceti, a philosopher from the 1600s, another figure that has the body of a human and the head of an elephant, and on her wrist is an eye tattoo. Now, she's expanded her collection once again with the bat skeleton.