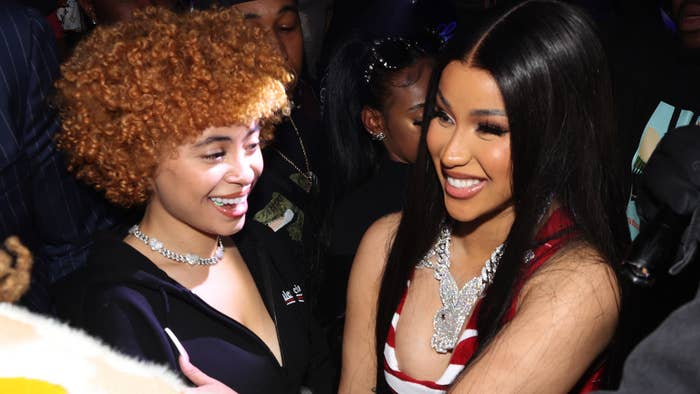 Cardi B seemingly addressed speculation that she dissed Ice Spice this past weekend.
The speculation stemmed from Cardi's appearance at Hot 97 Summer Jam, when she performed her feature from GloRilla's song "Tomorrow 2." Cardi transitioned into the track with the song "Tomorrow" from Annie, against a backdrop that showed an image of the iconic orphan twerking. Some people couldn't help but see a resemblance between the cartoon version of orange-haired Annie and Ice Spice
Cardi appeared to respond to the speculation on Instagram Live without mentioning Ice Spice specifically.
"For y'all muthafuckas that's on Twitter tryna be messy, please, cut the bullshit," she said. "That's not me, like come on now. First of all, y'all been wanting me to be messy all things. Y'all wanted me to be messy on the song, y'all wanted me to—nah, come on now."
"Cut the bullshit, please. Get the mop," she continued. "Y'all being too messy and y'all being annoying."
People also drew parallels between what the cartoon version of Annie was wearing and a red outfit that Ice wore in an IG Story, where she was rapping along to "Tomorrow 2."
"Cardi b putting a caricature of ice spice on her set in the same outfit she wore on a ig story when she was rapping 'tomorrow 2' and singing annie before transitioning into 'tomorrow 2'… shading a girl that showed nothing but love to you," one user tweeted.
Another person claimed that Cardi targeting Ice Spice was due to the latter's recent collaboration with Nicki Minaj, on the remix for "Princess Diana."
"Cardi shading ice spice unprovoked after she worked with nicki y'all see the pattern???"
It's important to note that Cardi references Ice's breakout hit "Munch (Feelin' U)" on "Tomorrow 2," and has appeared to support ther New York rapper's meteoric rise.