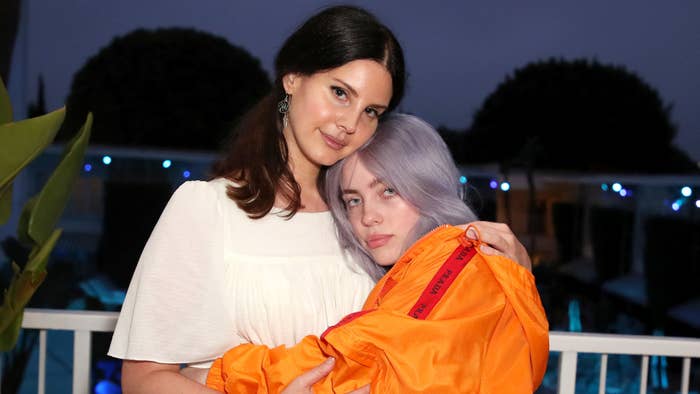 Billie Eilish wouldn't be where she is without Lana Del Rey.
The 21-year-old singer spoke with Dua Lipa for a new episode of her At Your Service podcast and explained just how meaningful Del Rey's 2012 album Born to Die was to her during her childhood.
"I feel that that album changed music," Eilish said, per Billboard. "And especially changed music for girls and the potential of what is possible."
She also shouted out Justin Bieber's 2012 album Believe and 2013 record, Journals, Childish Gambino's 2015 tape Because the Internet, and The Neighbourhood's 2015 album Wiped Out!
Del Rey spoke with Complex about Born to Die back during its release. "50 Cent's Get Rich or Die Tryin'. Biggie Smalls—the way he talked stuff out was inspiring to me," she said in 2012. "It made me feel like music could be autobiographical and more of an art form than just rhyming over sugary chords."
Elsewhere during Eilish's conversation with Lipa, she discussed how it's become more difficult to make new music as she's gotten older. "Everything is different about it," she said. "I've been trying to compare recently, just because I'm getting used to doing it in a different way. And trying to be like, 'It's OK to do that. I'm OK. I'm still able to do that, I'm capable still.'"
"The jump between 18 and 21 is a big jump," she continued. "Just mentally and physically, and realistically. It's just been completely different."
Eilish also provided an update on her next album, saying, "Finneas and I are just—hate to say it—but only starting to hit our stride for this next album. But I'm feeling good about it. I'm not worried, really. I'm feeling pretty comfortable and confident and excited."
Listen to their entire conversation here.