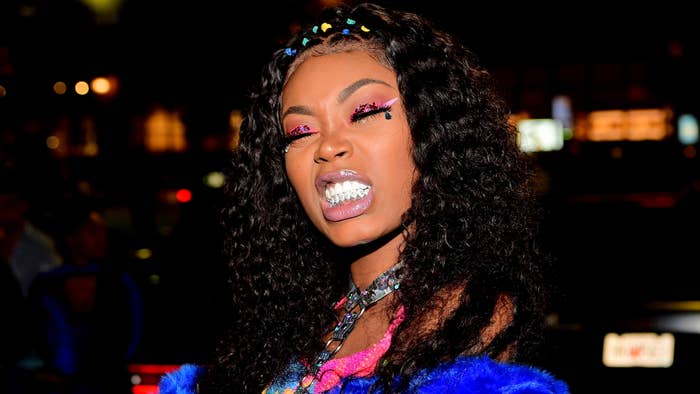 The drill music conversation has continued, with two rappers apparently both vying for the Queen of Drill crown.
It looks like Asian Doll and Katie Got Bandz have been subtweeting each other over ownership of the title, which, according to HipHopDX, started because Asian wrote, "Queen of Drill no bitch better," alongside a clip of a new track. While it seems that post no longer exists, she later shared a video of a new song that still appears on her Instagram, which she captioned, "Queen of what???? Yeah drill."
After catching wind of Asian's statements, Katie fired back with her own song, which seems to be a diss track called "Excuse Me Bitch," where she declares, "Bitch, I'm the queen of the drill."
"You drilling what? Stop it slut you ain't with the shits," Katie wrote on Thursday.
The pair continued their feud on Twitter on Friday, each apparently subtweeting the other, and neither outright mentioning nor tagging the other rapper. "Being loyal get you played with so it's time to play back with these ack ass bitches…I'm built for this shit," Asian tweeted.
But Katie was coming for the Dallas rapper's neck. "First you stole Kash Doll name now you think you coming for drill queen? Damn bitch do you originate anything."
"Texas is not even a drill state bitchhhhh," Katie continued, a fairly big indicator that she's speaking about Asian.
They also came for each other over both purportedly being in each other's DMs to work together.
A lot of women rappers have been hopping on drill beats as of late, including City Girls on the Fivio Foreign-featuring song "Top Notch" and Nicki Minaj on the song "We Go Up" with Fivio as well. In fact, Nicki privately messaged Katie, which the Chicago native revealed on Twitter too.
"I'm speechless I woke up to a message from @nickiminaj I love queen," Katie wrote on Friday morning.