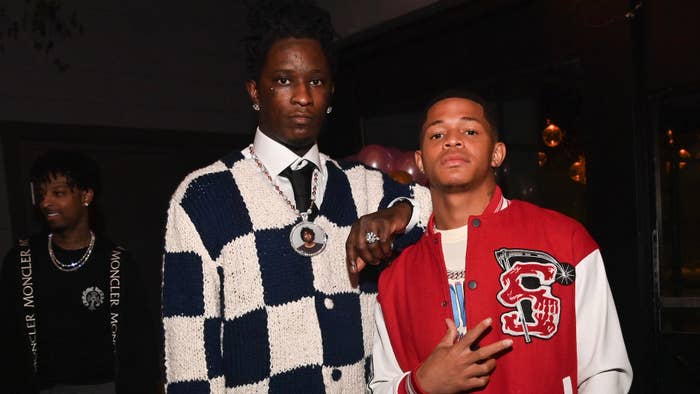 YK Osiris took to Instagram on Thursday to announce he was finally out of debt, but it seems his celebration was premature.
The Jacksonville native made the declaration by participating in the now-viral Money Challenge. The post shows Osiris sitting on the floor next to stacks of $100 bills spelling out "debt free." His caption read "you N***as better stop playing with my name," and fans immediately congratulated the 23-year-old for reaching such a big milestone in such a short time.
Then, shortly after he made the claim, YK remembered there's at least one more debt he has to pay off.
"Damn, I think I owe [Young Thug]," he admitted on his Instagram Stories, tagging Thugger.
YK hasn't hesitated to speak about some of his financial burdens, specifically the money he owed to fellow rappers like Lil Baby, Boozie Badazz, and Drake. Last month, Drizzy told Osiris he would accept a live performance in lieu of the $60,000 he was reportedly owed.
"You owe me 60 bands and you have to perform the song in the crib," Drake said in a video posted to social media. "I'm giving you an out. … I'm not Baby, I'm not Boosie. You don't owe me two racks or five racks. You owe me 60 bands and I'm playing the song right now. You ready?"
Though he was initially hesitant, YK obliged and delivered an enthusiastic performance of his "Worth It" track.
YK Osiris also addressed his money situation during a recent sit-down with Barstool Sports, claiming his debts were simply a result of bad choices and his impulsive nature.
"I think I just don't make smart bets," he explained. "I just jump in the water and swim. Are you going to save me?"