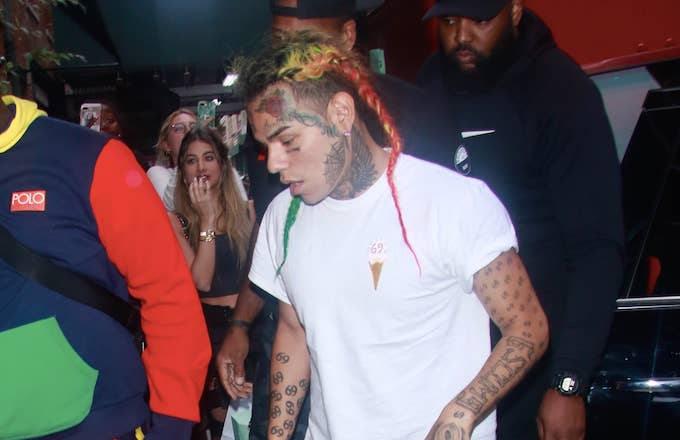 It's fuckin' Tr—
Oh wait, I forgot you can't say that shit
You can go start with everything else that start with a T, though
It's fuckin' Trojan
It's fuckin' Target
It's fuckin'—Hahaha
Though 6ix9ine has consistently referenced Tr3way in his music, his latest project—with exception to the previously released "FEFE"—has no Tr3way shoutouts. He does, however, tease his signature "It's f**king Tr3way" catchphrase in the Kanye West-assisted "KANGA" track: "How Ye? How Ye? How, Sway? Nigga, it's f*cking..." he can be heard saying before TrifeDrew jumps in: "Yo, chill, chill, chill, chill, chill, woah, woah, woah. You cannot say that, bro, c'mon."
Tory Lanez pulls a similar move on the outro for "KIKA":
Some assumed 6ix9ine was shading Tr3way and its members, some of whom he fired earlier this month shortly before his arrest. This theory makes sense when you consider all the legal drama surrounding 6ix9ine and his former clique; however, the real reason 6ix9ine never uttered the name is because he's legally prohibited from doing so.
6ix9ine is currently facing a slew of federal charges in connection to crimes allegedly committed by the Nine Trey Gangsta Bloods. His former manager Kifano "Shotti" Jordan is named as a co-defendant alongside his associates Jamel "Mel Murda" Jones, Jensel "Ish" Butler, and Faheem "Crippy" Walter. 
If convicted on all charges—which include accusations of racketeering and drug distribution—6ix9ine faces 32 years to life in prison. His trial is scheduled for September 2019.