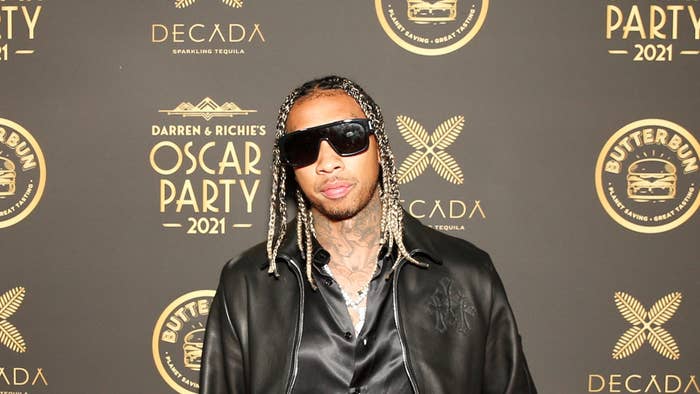 Tyga attempted to set the record straight after he was seemingly "exposed" by Nikita Dragun.
The drama began Wednesday night, when Nikita—a transgender social media star—released the music video for her new song, "Dick." The visual included screenshots of DMs and texts purportedly sent to Nikita from well-known cis men, one of whom was Tyga.
In the video, we see a screen-grab of the influencer's IG inbox, which featured a message apparently sent by Tyga. His avatar and verified check mark appear next to the DM that simply reads: "Text me," followed by a phone number that is hidden by the word "dick." The shot immediately caused a stir on social media, as it suggested the "Swish" rapper had tried to shoot his shot.
One fan brought the video to Tyga's attention and asked for an explanation. The artist claimed the message was strictly professional, and questioned why Nikita would insinuate otherwise.
He followed up the explanation with the following PSA:
But the drama didn't stop there. Asian Doll also slammed Nikita over the "Dick" video, which included a photo of the "Pull Up" rapper wearing an outfit similar to one worn by Nikita.
"Y'all wearing shit that I already wore," Nikita raps on the track.
Asian Doll fired back in a transphobic tweetstorm in which she continuously misgendered Nikita. Shortly after fans called out Asian Doll's ignorant response, the rapper deactivated her Twitter account. 
Nikita went on to say she never intended to throw shade at Asian Doll, but was just using her as an "example."
"This statement was to show that Trans women set THE trends for cis gender females, yet never get the credit. This was not meant to be shady towards u. U just happened to be an example."