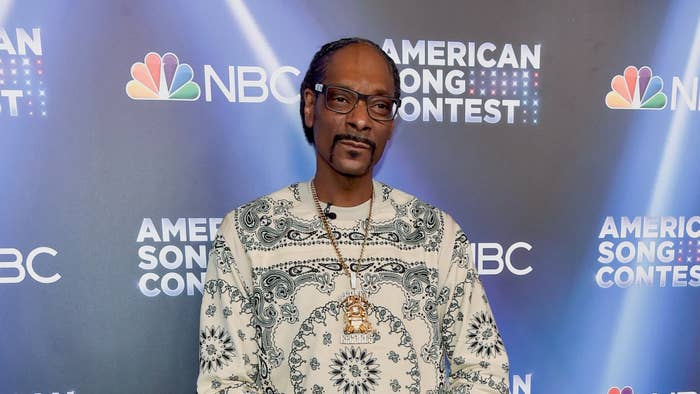 It's a new era for Death Row Records.
Shortly after taking the reins at the iconic imprint, Snoop Dogg confirmed a Death Row x Bad Boy partnership was in discussion—and it appears he hasn't abandoned the idea. The West Coast legend speaks about the proposed venture in an upcoming episode of Drink Champs. The popular online series shared a sneak peek at the interview on Monday, giving fans a little more insight into what Snoop envisions for the Death Row x Bad Boy collab.
"We can show growth and progression that we can move forward," he's heard saying in the teaser, "We can take this Bad Boy x Death Row what it used to be, and make it a collaboration on peace and love. 'Cause that's who I am. I'm Suge and Puffy."
He then appeared to address people who aren't happy with the prospect of a Bad Boy and Death Row collab. "Shut the fuck up and stop being brainwashed. I love Puff, I love his kids now n***a what's happening? I own Death Row so I do what the fuck I want to do," Snoop said. 
Also in the teaser, Snoop seemingly talked about not performing any of his songs during the Super Bowl LVI Halftime Show. "I would have loved to do 'Nuthin' but a "G" Thang,' 'Gin and Juice,' 'Who Am I (What's My Name)?,' 'Drop It Like It's Hot'… Anything out of my catalogue," he said. "I didn't get to do one Snoop Dogg song. I did everything to support Dr. Dre."
You can check out the trailer below. Snoop's Drink Champs episode will drop later this week.
Snoop teased the collaboration in a short film that accompanied his B.O.D.R. (Bacc on Death Row) album in February. At one point during the video, Snoop is seen conducting a FaceTime call with Bad Boy founder Diddy, who congratulates Snoop on his new role as Death Row CEO.
"Congratulations king, great move, great move," Diddy said. "You taught me how to play chess, not checkers."
"Now we can do what we want to do Death Row and Bad Boy," Snoop suggested.
"Yeah let's do it!" Diddy responded.
"We been doing it! Come on, Puff. I'm going to put it in the air, quit playing with me," Snoop continued. "I'm going to put it in the air n***a, we left n***as hanging," he said. We gotta do that."
Since then, fans have been patiently awaiting for more details on the imprints' partnership. The move would mark a new chapter in hip-hop history, as Death Row and Bad Boy were at the center of the deadly East Coast vs. West Coast beef during the 1990s.
Snoop addressed the feud during a 2016 appearance on Elliott Wilson's CRWN series, claiming he approached Death Row founder Suge Knight about a possible truce with Diddy and Biggie Smalls.
"When [Suge] was locked up, it was a pivotal moment where I wanted to go see him, and, I couldn't see him because they shut the visiting down, but I was able to get on the phone with him," Snoop said. "I was like cuz, why don't you let me shake Biggie and Puffy's hands on TV and end this so we can figure out a way to move forward."
Snoop said Suge wasn't cool with the idea.
"It made me feel fucked up because you see me trying to reach out and show love and this is the message that you send," he continued. "And, then slowly but surely, they turned on me because they seen I wasn't with the business move. I wasn't with the bullshit. I was with the realness [...] "I was going through shit like, 'I'm trying to live. Y'all n***as trying to die.'"