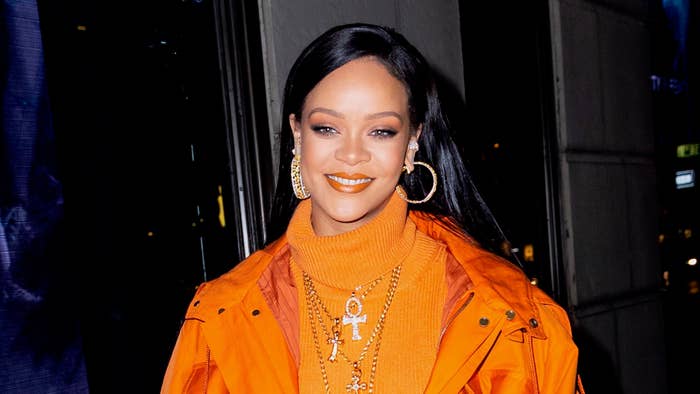 Rihanna is getting in on the virtual party action—and we're all invited.
Tonight, the multi-hyphenate is co-hosting the inaugural Fenty Social Club in celebration of her brand's new faux leather capsule. The event will include a performance by Lil Uzi Vert and UK rapper Octavian, as well as live DJ sets from previous Fenty collaborators Kitty Ca$h, DJ Pedro, and Stretch Armstrong. It's unclear if RiRi will bless attendees with her own performance or be strictly on hosting duties.
You can stream the Fenty Social Club party now on the brand's official Instagram. 
For Lil Uzi's set, Rihanna joined the Live to party with him. They danced to songs "Myron," "Lotus," "Futsal Shuffle 2020," "XO Tour Llif3," and "Money Longer."
Rihanna also gave an update on her upcoming album...kinda. Just don't ask about it anymore.
Online parties have become increasingly popular amid the widespread COVID-19 lockdowns. Though this is the first virtual party Rihanna has hosted, she did make an appearance in a Quarantine Club broadcast, hosted by DJ D-Nice. Since then, the Grammy-winning artist has made major contributions to the fight against coronavirus: She has donated personal protective equipment to the State of New York and has set up a $4.2 million joint grant to assist domestic violence victims affected by the crisis.