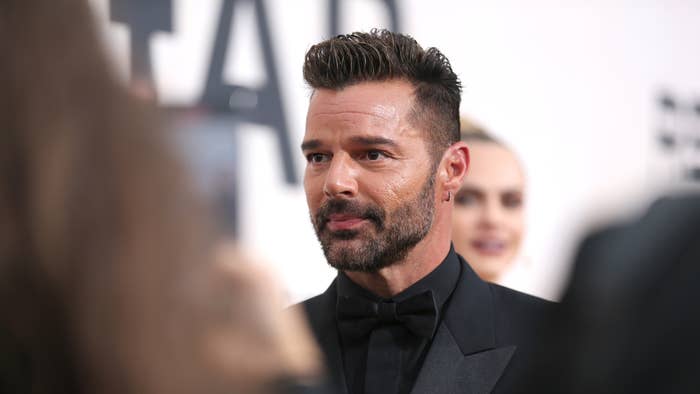 UPDATED, July 21, 10:10 p.m. ET: Ricky Martin publicly spoke out for the first time since his 21-year-old nephew Dennis Yadiel Sanchez withdrew the harassment allegation against him, and subsequently dismissed the case.  
"For two weeks, I was not allowed to defend myself because I was following procedure, where the law … obligated me not to talk until I was in front of the judge," Martin said in a video, obtained by Page Six.  
"Thank God these claims were proven to be false, but I'm going to tell you the truth, it has been so painful and devastating for me, for my family for my friends," he said. "I don't wish this upon anybody." Martin was prepared to testify in the restraining order hearing in San Juan, Puerto Rico earlier today before Sanchez dropped his claim. 
"I have been working on stages for almost four decades, in the public eye and I have never, ever had to deal with something as painful as what I have experienced in the last two weeks. I was a victim of a lie," Martin said in another recorded statement, per CNN. "Unfortunately, the attack came from a family member who is sadly dealing with mental issues." 
"I wish him the best and I wish he finds the help so he can start a new life filled with love and truth and joy and he doesn't hurt anybody else."
UPDATED, July 21, 10:40 a.m. ET: During a recent court appearance, Ricky Martin's nephew withdrew the claims he made against his uncle, Variety reports. The case is now closed. 
"Just as we had anticipated, the temporary protection order was not extended by the Court," a statement from Martin's attorneys reads. "The accuser confirmed to the court that his decision to dismiss the matter was his alone, without any outside influence or pressure, and the accuser confirmed he was satisfied with his legal representation in the matter. The request came from the accuser asking to dismiss the case. This was never anything more than a troubled individual making false allegations with absolutely nothing to substantiate them. We are glad that our client saw justice done and can now move forward with his life and his career."
UPDATED, July 16, 5:10 p.m. ET: Eric Martin took to Facebook Live to back his brother's claim that their nephew is deeply troubled.
In his rant, Eric says he's on the side of justice and truth, stating he doesn't think his brother is "capable" of the allegations he's been accused of. He also identified their nephew as 21-year-old Dennis Yadiel Sanchez.
He's speaking out to let his voice be heard "so that the press does not continue to say so many things."
"I do not put my hand on the hot table for anyone," he said in the Live. "What I am talking about is my experiences, my family experiences. I don't think my older brother is capable."
"Many prayers for my brother, many prayers for my nephew, many prayers for my family," he concluded.

See original story from 7/15/2022 below.
A new report sheds more light on Ricky Martin's domestic violence case.
According to TMZ, the pop star's accuser has been identified as his 21-year-old Dennis Yadiel Sanchez. The outlet cites a recent Marca article in which Martin's brother confirmed the alleged victim's identity.
The news comes just weeks after the 50-year-old pop star was hit with a DV restraining order in Puerto Rico. The petitioner, who was not named at the time, said he was subjected to physical and psychological abuse during his seven-month relationship with Martin. The accuser claimed he finally called it quits earlier this year, but Martin refused to accept the split and continued to the harass him in the following months.
"[Martin] calls him frequently. In addition, the petitioner has seen him hanging around his residence on at least three occasions," the restraining order reportedly stated. "The petitioner fears for his safety… the petitioning party demonstrated that there is a substantial possibility of immediate risk of abuse."
Martin denied the allegations after news of the restraining order had surfaced.
"The protection order entered against me is based on completely false allegations, so I will respond through the judicial process with the facts and the dignity that characterize me," Martin wrote in a statement. "Because it is an ongoing legal matter, I cannot make detailed statements at this time. I am grateful for the countless messages of solidarity, and I receive them with all my heart."
Though it's unclear what charges Martin is facing, Marca, reports he could spend up to 50 years behind bars for the DV and incest allegations.
The singer is scheduled to appear in court on July 21. Stay tuned as more details about the case become available.