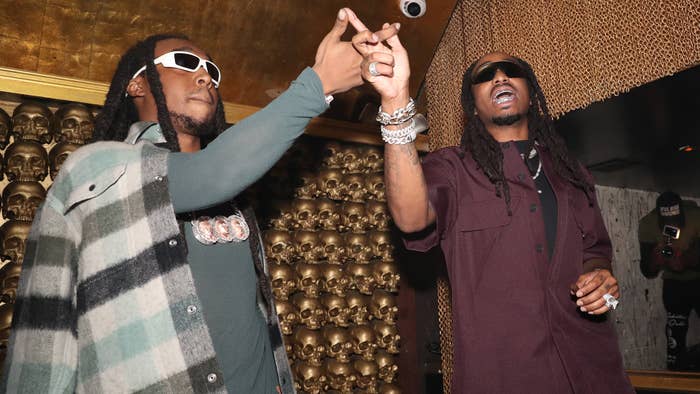 Quavo and Takeoff are eyeing another top-five album with Only Built For Infinity Links—their first official project as a duo.
According Hits Daily Double, the 18-track project is expected to move between 28,000 to 32,000 album-equivalent units in its first week. The forecasted figures are significantly lower than what Migos' earned with 2021's Culture III (130,000 units), OBFIL is on track to debut within the Billboard 200 top five.
Ahead of the release, Quavo and Takeoff spoke to Complex about the years-long journey to the project. The ATL rappers described it as a "special project" that required "a lot of tinkering."
"A lot of collecting marbles and jewels," Quavo said. "A lot of collecting information and seeing what's going on in the streets and in the world. Just sitting back like a young Bruce Wayne and the great Superman, ready to go at any moment."
The album included guest appearances by Gucci Mane, Birdman, Summer Walker, Young Thug, Mustard, and more.
When it comes to new releases, OBFIL is bested by MAXIDENT, the sophomore album from K-Pop group Stray Kids. The effort is projected to debut at the No. 1 spot with 95,000 to 110,000 units in its first week.
YoungBoy Never Broke Again's 3800 Degrees is expected to trail OBFIL with 25,000 to 30,000 units; while G Herbo's Survivor's Remorse: A Side is on track to move 24,000 to 28,000 units.