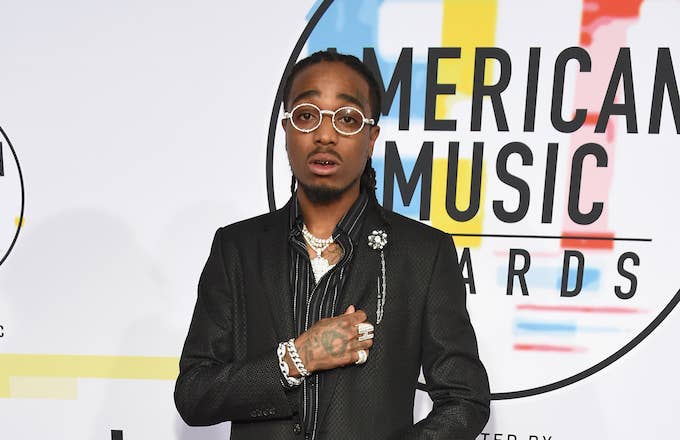 The third track on Quavo's newly released solo album, Quavo Huncho, is raising eyebrows.
Produced by DigitalNas and Murda Beatz, "Huncho Dreams" finds the Georgia rapper making some interesting claims about his previous collaborator Nicki Minaj. The cut, which seems to be a response to Nicki's "Barbie Dreams" record, suggests the two MCs were romantically involved at one point, just as many fans have suspected.
Quavo raps: "She said I hurt her feelings 52 times," in reference to Nicki's Beats 1 interview, in which she told Zane Lowe she was hurt by the whole "Motorsport" fiasco. For those who don't remember, Nicki claims she was unaware that Cardi B would be on the track until after she contributed a verse.
"I love Quavo, and at the time, on Twitter, I explained how 'MotorSport' came about, and you know, people were saying that I was lying," Nicki said. "So I texted Quavo and I said, 'Hey, just, you know, could you back me up on this because I don't want people to think I'm lying. What do I have to lie about? And he didn't back me up.... He texted me, and he was like, 'I would go on Twitter and back you up if you were my girl lol.' And that hurt, because he's somebody—I love him."
Call up queen (Nicki)
The queen can't flex on a young bull (Flex)
Made her scream (Scream)
Chanel, I bought her two of 'em
You can check IG (Hey, IG)
"Young bull" is a Philly phrase often used by Nicki's former boyfriend Meek Mill. Quavo also appears to reference Nicki's other ex Safaree, as he spits in the chorus: "I'm straight out the jungle (Hey), no safari (No)." And Nicki did post a video of herself unpacking two Chanel presents back in July.
There's also a nod to Nicki and 6ix9ine's "Fefe" track and Drake's hit single "In My Feelings," as Quavo sings: "Nicki, Nicki, do you love me? (Please)/Why you crying? (Why?)."
You can hear "Huncho Dreams," as well as the entire Quavo Huncho album, now on iTunes.
Check out some of the reactions to the cut below.