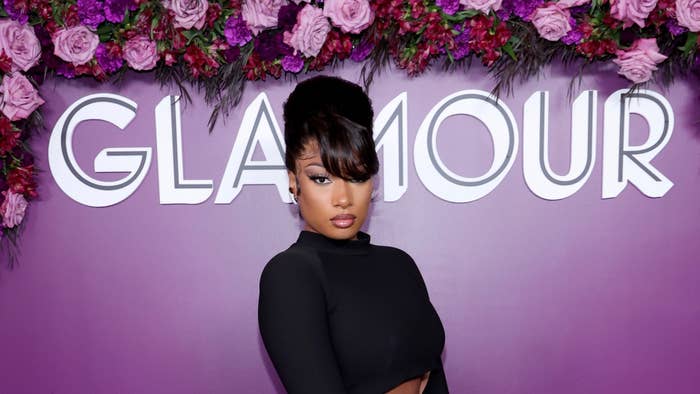 A Megan Thee Stallion and Jazmine Sullivan collaboration? It could very well happen.
During a recent interview with Billboard, Megan was asked to name an R&B artist she would like to work with—specifically on a Best of Both Worlds-type of project. 
"A whole project [laughs]? OK, me and Jazmine Sullivan would definitely have some stuff to talk about," Megan said. "We'll have the girls crying, we'll have the girls screaming, we'll have the girls dancing, we'll have the girls sipping wine, [and] sitting in the backyard sipping cognac, but no [laughs]. The men better go run and hide if me and Jazmine Sullivan do an EP, so that's actually a really good idea. We need to get that in the works."
Though the two have yet to connect on a record, Megan sampled Sullivan's 2010 hit "Holding You Down (Goin' in Circles)" on her 2020 Good News cut "Circles." Following the 2021 BET Awards, Sullivan took to Megan's Instagram page to express her interest in doing a collab: "MEG LETS DO A SONGGGG," Sullivan wrote. "I can't dance, my knees are bad but I can sing sometimes! Lessgoo where my old knee heauxs at??"
Sullivan is now preparing to release Heaux Tales, Mo' Tales: The Deluxe—an extended version of last year's Heaux Tales. The effort is available for pre-order now and is expected to arrive Feb. 11. Days after the deluxe version drops, the singer will kick off her North American Heaux Tales Tour with special guest Tiana Major9. The trek begins Feb. 14 in Vancouver and will include stops in Seattle, LA, Houston, Atlanta, and Brooklyn, before wrapping up March 30 in Chicago.