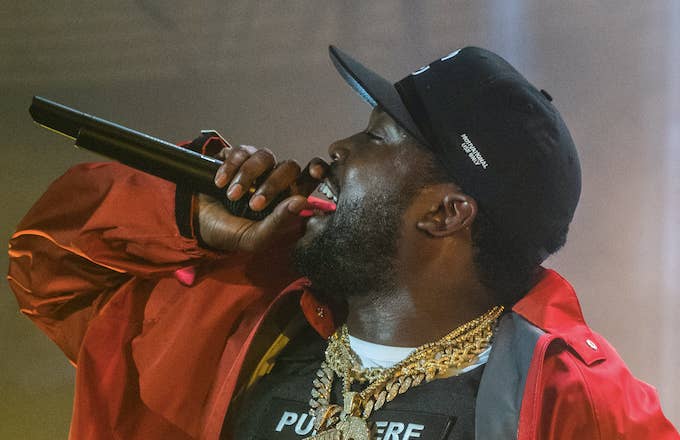 Meek Mill has teamed up with Lids on an exclusive DreamChasers snapback.
The 9FIFTY hat features a stitched "DC" logo on the front, "Dream Chasers" on the back, and the phrase "Motivational Use Only" embroidered on the side. Fans got a sneak peek at the design earlier this year, when the Philly rapper donned a black iteration during his Motivation U.S. Tour.
Meek and Lids will also donate a percentage of the proceeds from each hat sale to REFORM Alliance, a criminal justice reform initiative that Meek co-founded alongside Michael Rubin, JAY-Z, Robert Kraft, Robert F. Smith, Clara Wu Tsai, Laura Arnold, Michael Novogratz, and Daniel S. Loeb. REFORM Alliance aims to shed light on the country's broken criminal justice system, as well as eliminate probation and parole laws that perpetuate injustice. The organization has played role in a number of highly publicized cases, the most recent of which centered on Maurice Hudson, a Pennsylvania man who was incarcerated because he was unable to pay off about $1,900 in court costs.
"Having my own line with Lids is special, but I'm especially proud that proceeds from this hat will be used to help fix the broken criminal justice system," said Mill, who also serves as a Lids creative director. "I'm grateful that our team at Lids was committed to making a hat that's stylish, but will go toward a greater cause."
You can check out the Meek x Lids DreamChasers hat below. The piece will be available beginning this Tuesday at Lids locations in major markets.