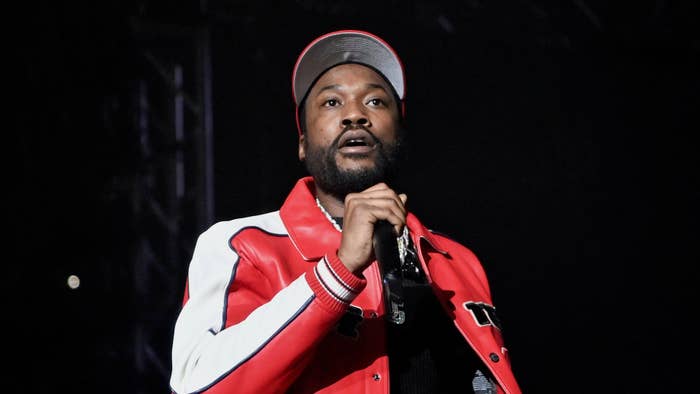 The Reform Alliance team has fully embraced the season of giving.
Just days after Meek Mill donated $500,000 worth of gifts to Philadelphia families, he and his fellow Reform co-founders hosted a special "VIP experience" at Brooklyn's Barclays Center. The giveback event was a collaborative effort between Meek, REFORM Alliance co-founder  Clara Wu Tsai, Reform CEO Robert Rooks as well as the New York Liberty and the Brooklyn Nets.
Twenty-five children from five community-based organizations—The LHOM (Ladies of Hope Ministry), Pure Legacee, HOUR Children, Inc., We Got Us Now, and Some People Understand Differently SPUD.inc.—were selected for the experience, which reportedly included a $250 voucher to spend on merchandise from the team store and Brooklyn Fanatics.
Following a private dinner at the 40/40 Club, the group was taken to their suite inside the Barclays to watch the Nets take on the Magic. 
Tsai, co-owner of the Nets and the Liberty, shared a few words about Saturday's event as well as the overall mission of Reform.
"As governors and stewards of the NBA team and are WNBA team, we have a megaphone," she said at Barclays on Saturday night. "And I really like to use it to amplify messages that are important to me, and that are important to our players and the team. One of them is criminal justice reform."
Tsai went on to say that she was especially interested in economic mobility and helping those from underserved communities. 
"You can't really talk about economic mobility in urban areas without really addressing criminal justice reform," she continued. "… It's been a really hard year for the world, and a really hard year for the country. And when it's a hard time for the country and the world, it's even harder on people who are impacted by the criminal justice system. So today really is a day to hopefully have a lot of joy with their friends and family in particular, and just be able to celebrate."
You can hear Tsai's full comments below. And for a full recap of experience, head to Reform Alliance's IG Stories.