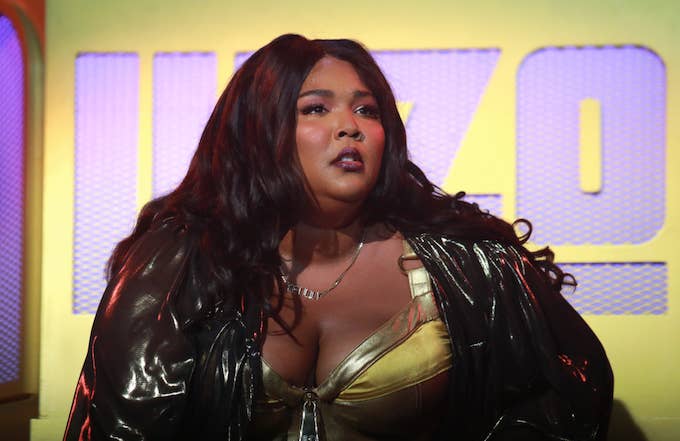 Lizzo's hasty tweet has ignited a court battle.
Nearly two months ago, the "Truth Hurts" artist went to Twitter to falsely accuse a Postmates courier of stealing her food. Lizzo not only identified the driver by her first name, she also shared her photo in the post, writing, "Hey @Postmates this girl Tiffany W. stole my food. She lucky I don't fight no more."
Tiffany Wells, the woman at the center of the drama, is now suing Lizzo for defamation.
According to the lawsuit obtained by Pitchfork, Wells claims she was forced to quit her Postmates job because of Lizzo's public accusations. The plaintiff says she has received threats because of the incident and is now living with constant fear, anxiety, and humiliation.
Per the lawsuit:
Because of Lizzo's tweets and in light of Lizzo's influence and popularity, Plaintiff became fearful that someone may recognize her if she continued to deliver for Postmates. Given that Plaintiff was already the recipient of direct threats of violence, Plaintiff also feared for her physical safety. Unsure as to what an individual or group of individuals may do to cause her harm if she were to be recognized in public, Plaintiff was scared to leave her house and as a result was forced to stop delivering as a courier altogether – directly affecting her ability to earn a living
Shortly after Lizzo's tweet, a source told Rolling Stone Wells traveled to the designated drop-off location, but was unable to contact the person who had placed the order—presumably Lizzo. The lawsuit states Postmates drivers are permitted to leave the location if they cannot get in touch with the customer after five minutes. Wells claims she made several calls to the customer, but they all went unanswered. She then moved on to the next order.
"In a further attempt to contact the customer and complete the delivery, Plaintiff spoke with the hotel's front desk agents. She inquired if anyone with the customer's name was staying at the hotel," the lawsuit reads. "After she was informed that there was in fact no Bonnie V. staying at the hotel, Plaintiff went back outside where she lingered for five minutes before finally departing – as per Postmates policy."
Lizzo eventually deleted the accusatory tweet and issued an apology, part of which included her saying, "I understand I have a large following and that there were so many variables that could've put her in danger."
Wells is suing the artist for libel, intentional infliction of emotional distress, and false light invasion of privacy. She is seeking unspecified damages.