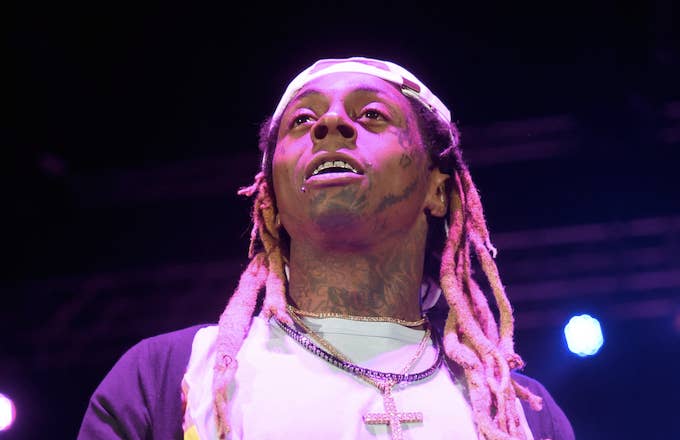 Lil Wayne's Tha Carter V is an expansive and ambitious effort that includes appearances from some of the biggest names in the industry. Producers like Metro Boomin, Mannie Fresh, Zaytoven, and Ben Billions are credited on the album, as well as recording artists such as Kendrick Lamar, Nicki Minaj, Snoop Dogg, and Travis Scott. All heavy-hitters, no doubt; however, it is Wayne's mother, Jacida Carter, who provides some of the most memorable moments on the long-awaited project.
Jacida opens Tha Carter V with the spoken word track, "I Love You Dwayne," which, as the title suggests, is an encouraging, heart-warming message to her son as he prepares to release the album.
"Lil Wayne, mama proud of you. You done came so far. I can't wait for your album to come out," she says. "A lot of people ask me when it's coming out. They can't wait for your album to come out. I'm just proud of you. You's my rock [...] I just pray things go well with you in life. But I thank the lord, because I know you have been through a lot that I don't even know about. Mama love you. I love you Dwayne, with all my heart. You is my life I live for you."
Jacida also appears at the end of "Open Letter," when she speaks about the time Wayne revealed he was expecting a child with Antonia "Toya" Wright.
"You know when he told me that Toya was having a baby, I said, 'Y'all young. Y'all young, but be the best father you can be," she says. "And, truly, he is that."
Wayne's mom appears again in the last few seconds of "Hittas": "He's a very a smart child. And I just say he was a genius, you know what I'm sayin? Which I used to pray—I asked the lord to send me one. And he did. He's so smart, I can't teach him nothing. He done been there before."
In "Used 2," Jacida touches on the time Wayne shot himself when he was a kid, and how that incident has plagued her throughout the years.
"I still don't know today. Was he playing with the gun or was it an accident I still ... I just don't I ... I be wanting to ask him but I never asked him out all these years. Was that a accident or did he... or was he playing with the gun? So I never really found out about what—you know, what happ- what really happened with him and that shooting."