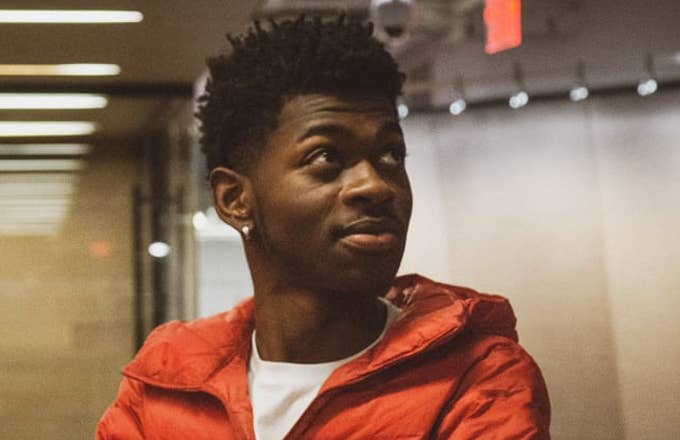 Lil Nas X has become one of 2019's fastest rising stars. The 20-year-old Atlanta artist was catapulted into the mainstream thanks to a series of TikTok memes that were soundtracked by "Old Town Road"—his viral "country-trap" record that now leads the Billboard Hot 100. It's a pretty impressive feat considering he was relatively unknown at the top of the year; however, as Lil Nas X's popularity surged, so did the rumors about his life before the fame.
Over the past several weeks, a number of outlets have reported Lil Nas X ran the now-suspended Twitter account @NasMaraj. The page had built a six-figure following with its Nicki Minaj stan posts, recycled viral videos, and memes. Publications like Billboard and HotNewHipHop have since retracted previous reports that identified Lil Nas X as the operator of @NasMaraj: "Lil Nas X's team has reached out to us to confirm that the Lil Nas X did not run a Nicki Minaj fanpage, despite Billboard's initial reports," a correction on HNHH's website reads.
Take this one, for example:
Lil Nas X addressed the theories in a recent interview with NPR, and attempted to distance himself from the @Nasmaraj account.
"It's like a big misunderstanding and it's not one that I even want to give the time, because I'm never putting someone as the face of my career," he explained. "So I don't even speak on it. I just don't even acknowledge it, really. I know even more things are being made up and they're gonna be out there. It is disappointing when a big blog will post something without me talking about it but, I mean, it happens."
Despite Lil Nas X's pseudo-denial, New York Magazine has presented strong evidence to suggests the rapper was, in fact, behind @Nasmaraj. The publication points to Reddit user u/NasMaraj that frequently promoted Lil Nas X's music, and references 2018 Wayback Machine snapshots that show @Nasmaraj's replacement account—@NasMarai—listed the same Gmail address currently linked in Lil Nas X's Twitter bio. (@Nasmarai was formed after @Nasmaraj was suspended for violating Twitter's spam policies.)
But the most convincing piece of evidence New York Magazine presents is the URLs for @Nasmarai's old tweets.
Per the magazine:
Complex has reached out to Lil Nas X's camp for a comment on his alleged involvement with @NasMaraj.