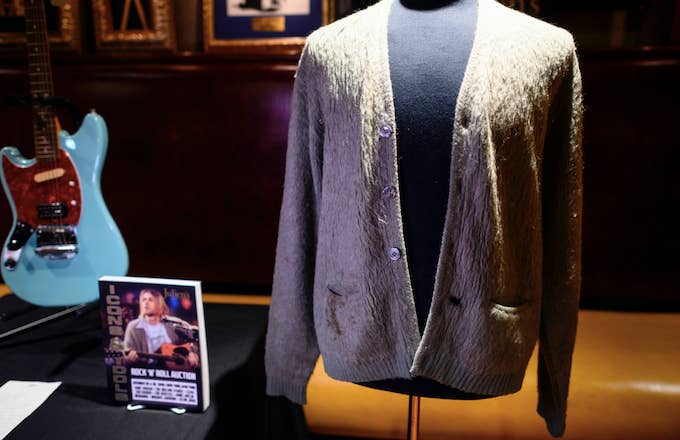 Kurt Cobain's iconic green cardigan has reportedly sold for $334,000, making it the most expensive sweater ever sold at an auction.
According to Rolling Stone, the garment was purchased through Julien's Auctions this weekend, about four years after it was auctioned off for $137,000. The unwashed sweater, which was estimated to rake in between $200,000 and $300,000, was made famous in 1993, after it was worn by Cobain during Nirvana's iconic performance on MTV's Unplugged.
"It's very important that we don't wash it," Darren Julien of Julien's Auctions told Rolling Stone. "The stains are still there."
The piece was reportedly obtained by Cobain family friend Jackie Farry. The auction house states the sweater is made from a blend of acrylic, mohair, and Lycra, and features two pockets, a front-button closure (one button missing), as well as a discoloration and a burn hole.
The previous owner, Garrett Kletjian, admitted he had worn the sweater just one time, but took it off after 40 seconds.
"It's kind of a weird, powerful thing when you do something like that, when we put on somebody else's [clothes]," Kletjian, a former race car driver, said. "It's like when they say you should walk in somebody else's shoes. When I put that on, I was like, 'Ah, no. God, I don't want to wear this.'"
Fashion historian Kimberly Chrisman-Campbell told Rolling Stone the sweater was made in the 1960s by garment company Manhattan Industries. Chrisman-Campbell said she was able to track down an old MI ad that featured a similar-looking cardigan listed for $15.95.
Other items sold at the two-day auction include Cobain's custom, left-handed Fender Mustang guitar ($340,000), Michael Jackson's custom velvet jacket ($65,625), and Elvis Presley's 1976 Harley Davidson motorcycle ($106, 250).