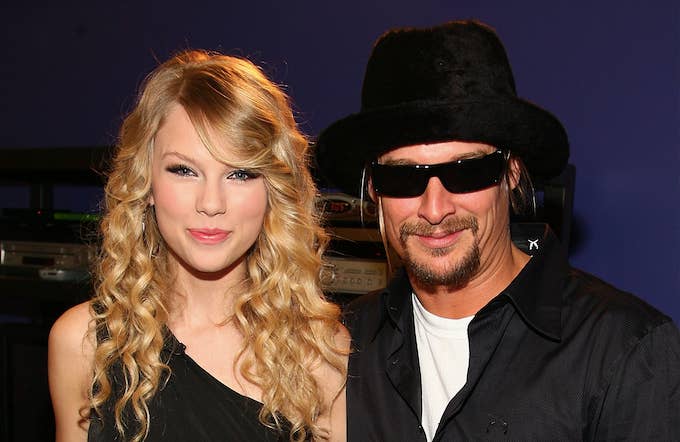 Kid Rock is feeling the wrath of the Swifties.
The 48-year-old artist sparked controversy on Friday, after launching a sexist attack on Taylor Swift. Kid Rock accused the singer of adopting left-leaning political views as a way to propel her movie career, and suggested she was willing to trade sexual favors to ascend in Hollywood.
"Taylor Swift wants to be a democrat because she wants to be in movies….period," Rock tweeted. "And it looks like she will suck the door knob off Hollyweird to get there. Oldest move in the book. Good luck girl [...]"
Twitter users immediately came to Swift's defense, and began trashing Rock for his sexist comments. Many also criticized the 48-year-old's own political views, and the fact that he has aligned himself with racists political figures, like President Donald Trump. They also took jabs at his age, receding hairline, his faux-red neck act, and general irrelevancy.
Rock tweeted the attack one day after Swift's Vogue cover story was released. Though the singer has become increasingly political over the past year—supporting a number of Democratic politicians and donating to left-leaning organizations—she caught heat for her unwillingness to endorse a presidential candidate in the last election. Swift explained her reluctancy to Vogue. 
"Unfortunately in the 2016 election you had a political opponent who was weaponizing the idea of the celebrity endorsement," she said, referencing Trump. "He was going around saying, 'I'm a man of the people. I'm for you. I care about you.' I just knew. I knew I wasn't going to help. Also, you know, the summer before that election, all people were saying was: '[Taylor Swift's] calculated. She's manipulative. She's not what she seems. She's a snake. She's a liar.' These are the same exact insults people were hurling at Hillary [Clinton]."
She continued: "Would I be an endorsement or would I be a liability? Look, snakes of a feather flock together. Look, the two lying women. The two nasty women. Literally millions of people were telling me to disappear. So I disappeared. In many senses."