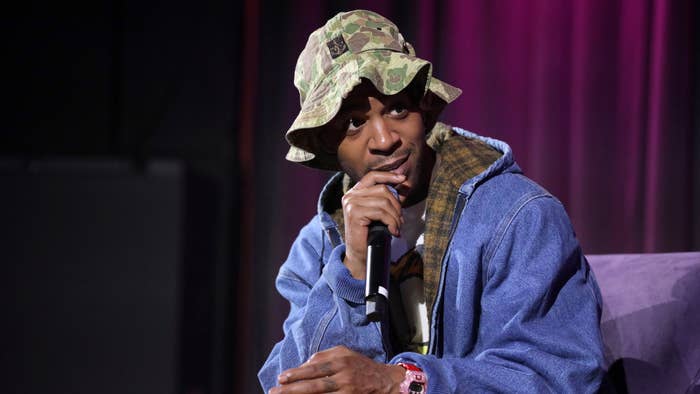 Kid Cudi has chosen to remain positive, despite his recent Grammys snub.
A day after the 2023 nods were announced, Cudi took to Twitter to address his noticeable absence from the nominee list. Some fans suspected he would secure at least one nomination for his eighth studio album, Entergalactic, which complimented his animated Netflix series by the same name. The concept project delivered a total of 15 tracks, and included guest appearances by Ty Dolla Sign, 2 Chainz, Don Toliver, Steve Aoki, and Dot da Genius. Entergalactic debuted at No. 13 on the Billboard 200 back in October, marking Cudi's seventh project to hit the chart's top 20. 
Though it garnered generally favorable reviews and respectable streaming numbers, the album failed to secure a single nomination for the 65th Annual Grammy Awards. Many fans were, of course, frustrated by the snub. But Cudi? He didn't appear to be too upset; in fact, he seemed pretty optimistic that the album would one day get the proper recognition.
"Music award shows have been virtually ignoring me for over 10 years," he tweeted. "I see people upset that I didn't get a nom but its ok y'all. The acting world will be kinder to me. Im already winning awards for Entergalactic and when Emmy season comes around, we'll see what time it is."
He continued: "The music was a hugeeee part of Entergalactic, and people wouldn't be raving about the event if the music wasn't on the level. So don't even trip y'all. I know this album was beautiful, I know I gave it my all, and I know what I did with Netflix is something that changes the game."
Cudi is currently on the road for his To the Moon World Tour with support by Strick, Denzel Curry, and 070 Shake. During the trek, Cudi sparked retirement rumors after he told fans he would drop one more album to complete his deal with Republic Records.
"Im doin 1 more album and then im done w my deal and not sure what ima do after that but yea, 1 more," he tweeted earlier this month. "Wont be next year. Keep u posted."
He then shared a few details about what his next project would deliver.