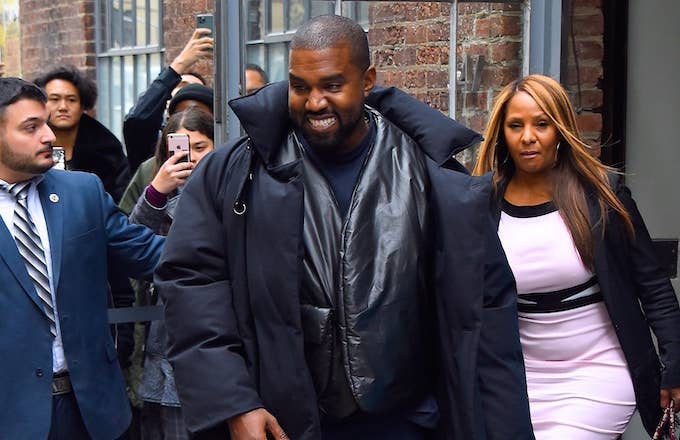 Kanye West and his Sunday Service choir are headed to Miami.
On Thursday night, the Jesus Is King rapper announced he would present a new opera, titled Mary, this weekend at Miami Marine Stadium. Ye shared the news via Twitter along with the Bible verses Luke 1:30-31: "And the angel said unto her, 'Fear not, Mary: For though hast found favour with God. And, behold, thou shalt conceive in they womb, and bring forth a son, and shalt call his name Jesus.'"
According to the tweet, Mary will feature music by the Sunday Service choir and will be directed by Vanessa Beercroft, who was also involved in Kanye's Nebuchadnezzar opera last month.
A press release added that West's latest opera is based on the story from the Holy Bible in which a person named Jesus Christ is born. "Mary represents an innovative interpretation of West's own music, gospel standards, and traditional opera alike," the release stated, adding that the opera format "is a new medium through which to express [West's] commitment to faith and his ever-expanding musical and visual palette."
Notably, the Mary opera is billed as a a collaboration between "the Sunday Service collective," described in the press release as "a ministry formed in January of 2019," and Access Opera.
The show will take place this Sunday during Miami Art Basel. Tickets are available now online for $200.
Judging by the brief description, it's safe to assumeMary will be formatted just like the Nebuchadnezzar opera, which starred Sheck Wes as the titular Babylonian king. According to Mikael Wood of the Los Angeles Times, Nebuchadnezzar was basically "Kanye reading Bible verses—and reading them very dramatically—as his choir delivered long, moody vocal lines without a huge amount of melodic movement."
Mary will premiere as Kanye prepares to drop his Jesus Is Born album, set to arrive on Christmas Day. He is also working on a Jesus Is King sequel with Dr. Dre. Kanye spoke briefly spoke about the collaboration during his most recent Sunday Service in Lynwood, California.
"Jesus Is King is my first clean album. I used to spend all my time trying to make my beats be mixed as good as Dr. Dre," Ye told church-goers. "Who knew all I had to do was do an album for God and then Dr. Dre would start mixing my beats? Spend your time on God, and he'll handle the rest."