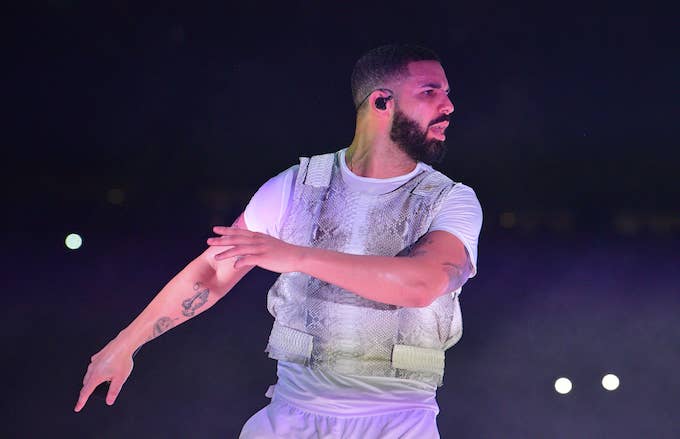 Drake has secured another legal win.
According to documents obtained by The Blast, Drizzy has settled his lawsuit against Hebrew Hustle, the music publisher he accused of using his name and face without authorization. The case stems from a 2014 case in which the company sued the Toronto rapper for sampling Jimmy Smith on his "Pound Cake/Paris Morton Music 2" record. That lawsuit ended in Drake's favor, as the judge determined the sample had been used fairly; however, that wasn't the end of the parties' court battle.
Drake—legal name Aubrey Graham—went on to file a countersuit against Hebrew Hustle for using his likeness to promote their business; Drake sued the publishing company for unspecified damages, claiming the stunt damaged his brand.
"[...] The very name of Hebrew Hustle is offensive, as it perpetuates stereotypes regarding persons of Jewish heritage, such as Graham," his legal team wrote in documents previously obtained by Complex. "Graham would have never licensed his name and image to Counterclaim Defendants, and is offended to have been falsely associated with them."
On Monday, The Blast confirmed the dispute had been settled, with Hebrew Hustle agreeing "to compensate Graham on confidential financial settlement terms for the False Endorsement and Right of Publicity claims and also to the entry of this consent order."
The agreement prohibits Hebrew Hustle from using Drake's name or image on their website. It's unclear how much money was paid to the rapper; however, the documents state that each party will pay their own legal expenses. The settlement states the publishing company retains the right to appeal the dismissal of the sample lawsuit against Drake. So, there's a chance this fight isn't over.
Several days ago, it was reported that Drake had settled his extortion lawsuit against Layla Lace, the woman who claimed she was raped and impregnated by the rapper. As part of the agreement, Lace is prohibited from making "statements alleging or insinuating" Drake assaulted her, impregnated her, and/or abandoned her.