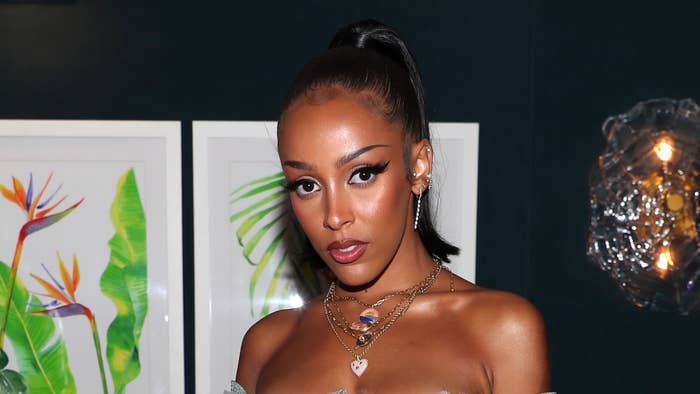 Doja Cat is on the road to recovery.
The Grammy-winning artist shared a series of photos Thursday following her second throat surgery in less than a month. The snaps show Doja reclined on a hospital bed, wearing a patient gown, and and displaying an IV needle stuck in her hand. She later told fans she had, in fact, undergone surgery on her tonsils, which became infected last month.
Doja went on to share a video in which she attempts to rap from the hospital bed. She tries to tackle Nicki Minaj's verse in Trey Songz' 2010 hit "Bottoms Up;" however, it quickly became clear her voice is far from performance-ready.
Doja explained her health issues in a series of tweets last month, saying she was placed on antibiotics for a throat infection. She said her conditioned worsened around the time of the Billboard Music Awards, as she forgot to take her medication and spent the whole day drinking and vaping.
"Dr. just had to cut into my left tonsil. I had an abscess in it," she wrote. "My whole throat is fucked so i might have some bad news for yall coming soon,"
Shortly after, Doja announced she was pulling out of the Weeknd's stadium tour and a slate of summer festivals. 
"Hi guys. I wanted you to hear it from me first," she wrote in an Instagram story. "Unfortunately I have to have surgery on my tonsils ASAP. The surgery is routine but the recovery is going to take awhile due to swelling. That means I have to cancel my festival run this summer as well as The Weeknd tour. I feel horrible about this but can't wait for this to heal and get back to making music and create an experience for y'all."