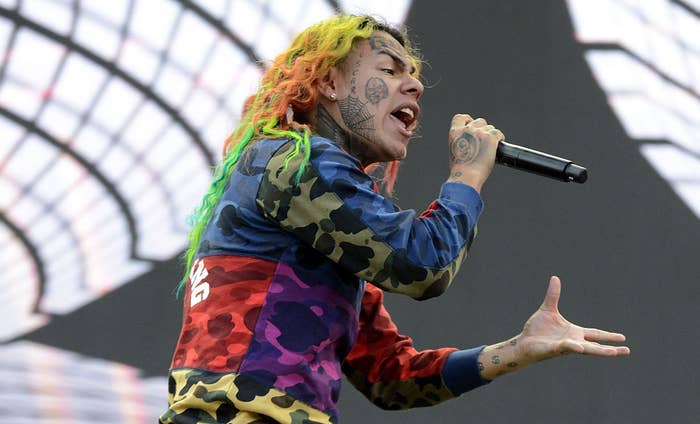 It seems new 6ix9ine releases are headed our way.
According to legal documents obtained by Complex, Judge Paul A. Engelmayer has expanded the rapper's house arrest to his own backyard for the purpose of filming music videos. The 23-year-old rapper requested the expansion earlier this month, shortly after he received an early prison release over coronavirus concerns.
"I am writing today only to request the Court's approval to permit Mr. Hernandez to spend up to two hours in his backyard, once a week, for employment purposes only," 6ix9ine's attorney Lance Lazzaro wrote in a letter to the judge. "He is looking to record music videos in his backyard. Probation is aware and has no objection to this request."
Judge Engelmayer formally granted the request Wednesday, laying out some of the restrictions for 6ix9ine's "employment-related activities." 6ix9ine is permitted to spend two hours per week in his backyard on one specific day that was approved by his probation officer. He is also allowed to spend no more than eight hours per day in his home recording studio located in his basement. His recording sessions must also be approved by his PO.
Per the judge's order:
The defendant is permitted to conduct employment-related activities outside the residence but within the confines of the rented property for two (2) hours per week on one (1) specific day that needs advanced approval by the Probation Officer. Given structural interference with the GPS tracking device, the defendant's hours in the basement of the residence will be limited to no more than an 8-hour period per day with a schedule as determined by the Releasee and approved by the Probation Officer. The Clerk of Court is requested to terminate the motion at Dkt. No. 475.
Now that 6ix9ine has received approval, it's safe to assume a release is imminent. The rapper recently shared an Instagram Stories post that teased something for his 24th birthday: "You ready? May 8th," the post read. It's worth noting May 8 falls on a Friday, which is when new music typically drops.