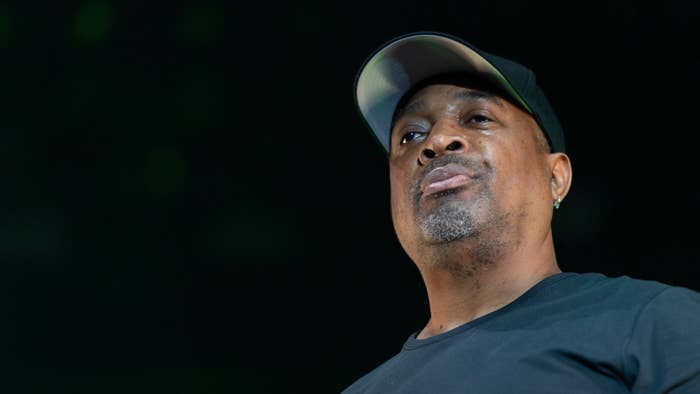 Chuck D wants to make it very clear he is not a fan of R. Kelly, contrary to what some may believe.
Shortly after Kelly was found guilty in his weeks-long federal trial, the Public Enemy member took to Twitter to weigh in on the jury's decision. Chuck likened the "I Believe I Can Fly" singer to artists Ike Turner and Rick James, both of whom had highly publicized legal issues related to abuse. Chuck claimed the former had served his time and came out a "changed positive human being," and questioned whether Kelly should also have a chance at redeeming himself rather than die behind bars. 
"Abused in his youth… an addict as a adult… Ike Turner served 18 months in prison.. Rick James did similar time. Ike came out a changed positive human being," Chuck tweeted. "How long should R Kelly spend in prison -and does a USA system give a man a chance for a man to change his world around?"
He followed up the post by insisting the inquiry was not "sympathetic."
Twitter users immediately slammed Chuck for focusing on Kelly getting a second chance, rather than speaking on his alleged crimes and victims. Chuck returned to Twitter on Tuesday to clarify his initial statements, and flat out condemn Kelly's actions.
"JUST TO BE CLEAR, I'm not the R Kelly fan here. 75 million sold somewhere & I ain't got 1 of his songs," he wrote. "And his actions were criminal my apologies if the wings of perception loomed beyond than the words on this slaveApp ..."
Kelly was found guilty of all nine counts in his sex trafficking and racketeering case. His sentencing hearing is now set for May 4, 2022. The 54-year-old reportedly faces a sentence of 10 years to life in prison.