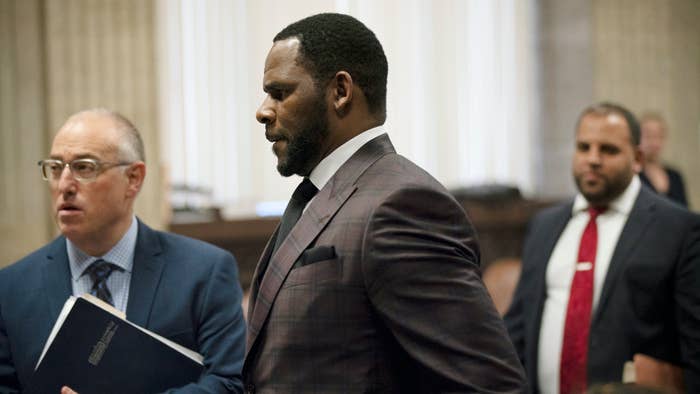 An attorney for R. Kelly's raised eyebrows this week when he likened the disgraced artist—legal name Robert Sylvester Kelly—to Martin Luther King Jr.
According to TMZ, defense lawyer Deveraux Cannick made the comparison during Thursday's closing arguments in Kelly's sex-crimes trial. Cannick told the jury that MLK was labeled a "rabble-rouser" and was ultimately killed for trying to secure equality for all Americans. He went to quote a portion of King's "I've Been to the Mountaintop" speech, which he delivered just a day before his assassination.
"Somewhere I read of the freedom of speech," Cannick said. "Somewhere I read of the freedom of assembly. Somewhere I read of the freedom of the press."
The attorney suggested that Kelly, just like King, wanted the government to abide by the U.S. Constitution, and said it was the prosecution's burden to prove Kelly is guilty beyond a reasonable doubt.
"All I'm trying to do is make it true to what it said on paper,'" Cannick continued. "That's all Rob is trying to do."
Kelly is accused of sexually abusing more than 20 individuals, some of whom were underage at the time of the alleged crimes. Jurors have spent the past five weeks hearing testimonies from the singer's accusers, whose claims date back to the 1990s. Among the allegations was that Kelly had forced his victims to call him "daddy"—a detail that Cannick dismissed as insignificant.
"It's almost a crime to call a man a daddy," he said. "I guess people can't do that anymore … The former Vice President Mike Pence called his wife 'mother.'"
Kelly has pleaded not guilty to the sex crime charges. He faces 10 years to life if convicted.
"For decades, the defendant recruited and groomed women, girls and boys for his own sexual gratification," U.S. attorney Elizabeth Geddes told the jury, as reported by the BBC. "With the help of his inner circle, he slowly isolated his victims, set rules and exacted punishment … It is time to hold the defendant responsible for the pain he inflicted on each of his victims. It is now time for the defendant to pay for his crimes. Convict him."